NTCET statistics
In 2018, 1373 students completed the Northern Territory Certificate of Education and Training (NTCET). Of this cohort, 912 students studied in government schools and 197 identified as being Aboriginal.
The top NT student is Connor Wade Marshall from Good Shepherd Lutheran College with an ATAR of 99.70 and a University Aggregate of 88.30, closely followed by Nafi Mazid from Darwin High School with an ATAR of 99.70 and a University Aggregate of 88.20
The top Aboriginal student is Kaimani Hendry from St Philip's College in Alice Springs.
The NTCET top 20 students were from 6 schools across the NT.
Darwin High School (6 students),
St Philip's College (5 students),
The Essington School (5 students),
Good Shepherd Lutheran College (1 student),
O'Loughlin Catholic College (1 student)
Palmerston College (1 student).
ATAR scores of the top 20 NT candidates range from 97.45 to 99.70 with a University Aggregate range of 83.5 to 88.30.
2018 Result highlights include:
Forty-seven students received a University Aggregate in the 90th percentile
Thirty-one A+ Merits were awarded in individual subjects to students in 10 schools across the NT
One-hundred-and-ninety-seven Aboriginal students received a NTCET. Nineteen were from remote aboriginal communities.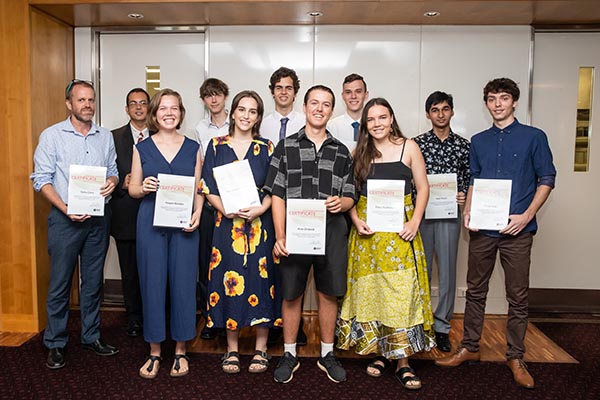 2018 NTCET Info Sheet DOCX (56.7 KB)
Northern Territory Certificate of Education and Training 2018 Top 20 NTCET Completers
| Given Names | Surname | School | Uni Agg | ATAR |
| --- | --- | --- | --- | --- |
| Connor Wade | Marshall | Good Shepherd Lutheran College | 88.30 | 99.70 |
| Nafi | Mazid | Darwin High School | 88.20 | 99.70 |
| Tahlia | Curry | The Essington School | 87.25 | 99.40 |
| Dominic | Boffa | St Philip's College | 86.90 | 99.30 |
| Finlay Andrew | Dale | Palmerston College | 85.65 | 98.80 |
| Evan Francis | Keith | Darwin High School | 85.30 | 98.60 |
| Aidan | Hookey | St Philip's College | 85.20 | 98.60 |
| Philip | Sullivan | St Philip's College | 85.05 | 98.50 |
| Morgan Iseabaila | Gurry | Darwin High School | 84.80 | 98.35 |
| Matthew Alex | Chapman | Darwin High School | 84.50 | 98.15 |
| Arne | Orstavik | The Essington School | 84.45 | 98.10 |
| Imogen Tara | Bowden | O'Loughlin Catholic College | 84.30 | 98.00 |
| Rose | Dixon-Campbell | The Essington School | 84.15 | 97.90 |
| Sam | Haywood | St Philip's College | 84.15 | 97.90 |
| Freya Avril | Stephenson | Darwin High School | 84.10 | 97.85 |
| Andrew Scott | Andrew Scott | Darwin High School | 84.00 | 97.80 |
| Maddison | Purnell | The Essington School | 83.90 | 97.70 |
| Jenna | Considine | The Essington School | 83.80 | 97.65 |
| Chante | Tabart | St Philip's College | 83.75 | 97.60 |
| Leah Rose | Beissel | NT Christian College | 83.50 | 97.45 |
2018 Top Aboriginal NTCET Completer
| Given Name | Surname | School |
| --- | --- | --- |
| Kaimani | Hendry | St Philip's College |
Last updated: 10 July 2019