NTCET statistics
In 2019, 1446 students completed the Northern Territory Certificate of Education and Training (NTCET), the number of completers being the highest in the history of the NTCET. Of this cohort, 928 students studied in government schools and 221 identified as being Aboriginal.
The top NT student is Lachlan Anderson from Darwin High School with an ATAR of 99.75 and a University Aggregate of 88.60, closely followed by Joel Park from Casuarina Senior College with an ATAR of 99.50 and a University Aggregate of 87.65
The top Aboriginal student is Monique Chong from St Philip's College in Alice Springs.
The NTCET top 20 students were from 6 schools across the NT.
Darwin High School (6 students),
The Essington International School Darwin (6 students),
St Philip's College (4 students),
Casuarina Senior College (3 students),
Centralian Senior College (1 student).
ATAR scores of the top 20 NT candidates range from 97.75 to 99.75 with a University Aggregate range of 84.40 to 88.60.
2019 Result Highlights include:
116 students in the Northern Territory have an ATAR in the top 10% in Australia.
A total of 47 A+ Merits were obtained by 39 students from eight Territory schools.
Kintore Street School in Katherine has seen two students become the first ever to complete their modified NTCET at the school.
Dawurr Boarding Facility at Nhulunbuy High School is celebrating its first three NTCET completers.
Centralian Senior College, Nhulunbuy High School, O'Loughlin Catholic College, St Philip's College and The Essington International School have had the highest number of students complete their NTCET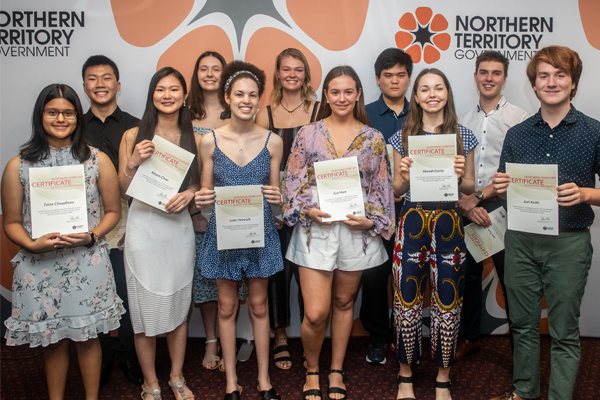 Northern Territory Certificate of Education and Training 2019 Top 20 NTCET Completers
| Given Names | Surname | School |
| --- | --- | --- |
| Lachlan | Anderson | Darwin High School |
| Joel | Park | Casuarina Senior College |
| Gemma | Antonino | The Essington International School Darwin |
| Eric | Zhu | Casuarina Senior College |
| Patrick | Rawsthorne | The Essington International School Darwin |
| Joel | Keith | Darwin High School |
| Eva | Hunt | The Essington International School Darwin |
| Alanah | Hardy | Darwin High School |
| Jenna | Goldney | The Essington International School Darwin |
| Tryphina | Reu | St Philip's College |
| Brandon | Ting | Darwin High School |
| Leila | Heinrich | The Essington International School Darwin |
| Nicholas | Butter | St Philip's College |
| Luca | Finocchiaro | The Essington International School Darwin |
| Eve | Brash | Centralian Senior College |
| Faiza | Choudhury | Darwin High School |
| Abeer | Srivastava | St Philip's College |
| Chelsea | Yu | St Philip's College |
| Khanh | Chau | Darwin High School |
| Georgia | Grosser | Casuarina Senior College |
Last updated: 17 January 2020
Share this page: