Strategic plan
Education NT Strategic Framework 2018-2022
The Department of Education's Strategic Framework 2018 -2022 sets the future direction of the department across the next five years.
The centrepiece of the framework is the Education NT Strategy 2018-22, which commits to a strong public education system that gives every child the opportunity to engage, grow and achieve.
The strategy has five focus areas:
School leadership – leaders lift performance
Quality teaching – students learn to their potential
Differentiated support – tailored, evidence-based strategies to support schools and students
Community engagement – strong partnerships with students, parents the community and industry to inform our decisions
Data and accountability – systems inform and improve our performance
Development of the strategy included extensive engagement with 41 face-to-face consultations attended by 1054 students, teachers, principals, community members, regional and corporate staff and key stakeholder groups.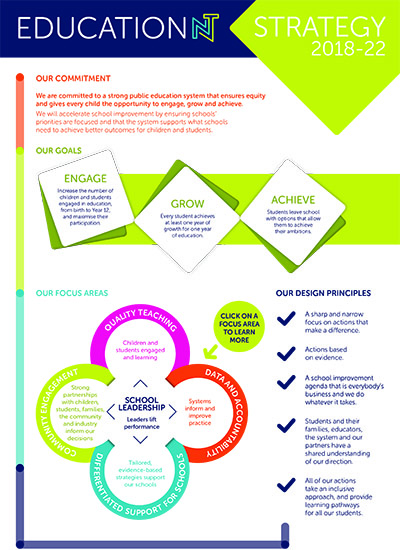 In addition to ensuring that the efforts of the department in providing support to schools is focussed, annual school priorities will be identified each year, linked to the strategy's goals of student Engagement, Growth and Achievement. Schools will select a minimum of two of the priorities in their Annual School Improvement Plans, and have the option of adding up to two additional priorities of their choice.
The annual school priorities for 2019 are:
Engage: Increase the participation of children enrolled in FaFT
Engage: Increase the number of students attending more than 80% (applies to preschool, Transition – Year 12)
Engage: Increase the retention of students in Years 9-12
Grow: Improve students' two year gain in NAPLAN writing in Years 5, 7 and 9 (applies to Transition – Year 9)
Achieve: Increase the number of Year 12 completions
Last updated: 16 July 2019
Share this page: