Education NT Strategic Framework 2018-2022
The Department of Education's Strategic Framework 2018 -2022 sets the future direction of the department across the next five years.
The centrepiece of the framework is the Education NT Strategy 2018-22, which commits to a strong public education system that gives every child the opportunity to engage, grow and achieve.
The strategy has five focus areas:
School leadership – leaders lift performance
Quality teaching – students learn to their potential
Differentiated support – tailored, evidence-based strategies to support schools and students
Community engagement – strong partnerships with students, parents the community and industry to inform our decisions
Data and accountability – systems inform and improve our performance
Development of the strategy included extensive engagement with 41 face-to-face consultations attended by 1054 students, teachers, principals, community members, regional and corporate staff and key stakeholder groups.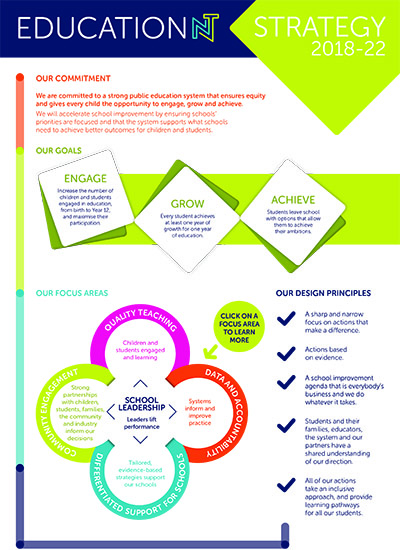 Previous Strategies
Progress reports
The department provides six-monthly reports on progress against targets and key actions in the strategic plan:
Last updated: 28 November 2017