Indigenous Education Strategy - Issue 15
Building a Bridge into Preschool
The communities of Maningrida and Galiwin'ku have participated in a three-year study to improve educational outcomes for young Aboriginal children,
The study, Building a Bridge into Preschool in Remote Northern Territory Communities, looked at the Families as First Teacher program which uses the Abecedarian Approach of family-led learning through conversational reading and learning games in first language.
The research aims to bring together cultural knowledge and evidence-based early learning to improve educational outcomes in young Aboriginal children. It is being led by the Melbourne Graduate School of Education at the University of Melbourne in collaboration with the Department of Education's Early Childhood Education and Care.
Maningrida and Galiwin'ku have two of the Territory's largest remote Families as First Teachers (FaFT) programs and they each held ceremonies in May to celebrate their participation in the study.
More than 120 community members came together at Maningrida for the celebrations, representing more than eight language groups.
At Galiwin'ku, more than 200 community members participated in the ceremony.
Family Liaison Officer Dorothy Gapany said FaFT was strongly supported by her community.
"I engage with kids aged 0-3 and work with mums and encourage mums that they are the first teachers for their own children,'' she said.
"FaFT is about teaching everyone. Some people come feeling vulnerable but we teach resilience and everyone works together and it's empowering. You are family at FaFT."
Ms Gapany said FaFT employed seven local Indigenous people and the strength of the program was in its use of language and culture to teach mums and babies.
"It's learning in two ways. Yolngu and Balanda language are part of the program and this is what makes it effective learning.
"We encourage mums that if you don't know how to read and write just go along with the pictures, and mums have that courage and confidence to be able to work with their children.
"It's a very important role in FaFT, encouraging kids from their learning journey from 0-3 and it's been good for me as an Aboriginal person working with mums and kids in FaFT."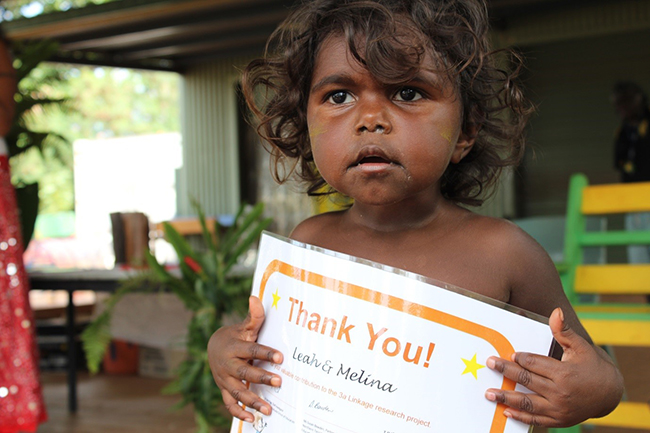 Print all pages in this section
---
Last updated: 28 August 2017
Give feedback about this page.
Share this page:
URL copied!