Zhuang Zhuang Sun
Larrakeyah Primary School graduate, Zhuang Zhuang Sun,has received the Administrator's Award for Territory Primary Years Scholar, fulfilling the criteria of academic achievement, outstanding behaviour, and outstanding citizenship and concern for others.
"Primary school was pretty easy for me – it was usually As and Bs on my report card," he said.
Zhuang Zhuang said the award was a surprise but he was proud to receive it.
"It gives me a lot of confidence coming into a new school," he said. "It was really shocking when I found out (about the award) – my parents were very excited."
The top performer said Larrakeyah Primary School staff had been a strong influence on his education. "My teachers, and everyone at Larrakeyah, were all excellent," he said.
Crediting science as his favourite subject, Zhuang Zhuang has cited engineering as a future career.
"I just like learning about different things," he said. "I like science, and I really like the teacher."
But his favourite part of primary school was being able to use the new Year 6 classrooms.
"We nearly missed out, they opened in Term 2 of Year 6," he said.
With two weeks under his belt at The Essington School, Zhuang Zhuang says the amount of homework has been a surprise.
"We didn't get any homework at Larrakeyah – I get a lot less free time," he said.
At Larrakeyah Primary School, the former Year 6 student achieved the highest score in the 2017 Cambridge Primary Checkpoint Exam in English.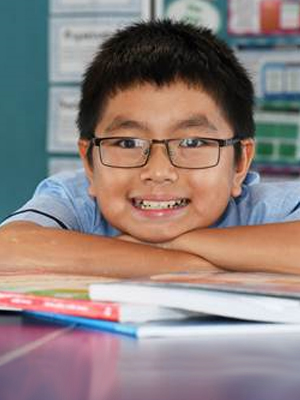 ---
Last updated: 14 February 2018
Give feedback about this page.
Share this page:
URL copied!