Kate Gornall
Kate Gornall, 18, has been honoured with the Year 12 Vocational Education and Training Award. Graduating O'Loughlin Catholic College with an ATAR of 90.9, Kate has landed a job with Australian Apprenticeships NT, where she will be working as a gateway marketing officer.
Her final school year consisted of three days of school, and two days of university.
"It was a lot to manage, and I worked part-time as well, but it paid off in the end," she said. "I think it was the best thing I chose to do – being able to complete school and a course at the same time was important."
Kate has struggled with dyslexia since she was eight, making her achievements even more impressive.
"My battle with dyslexia began when I was eight years old, and before I reached Year 11 it was a huge struggle to study and do assignments," she said. "I worked very hard last year, and I managed my dyslexia by creating calendars that combined my assignments and their due dates, ensuring I met deadlines."
Kate was headhunted by Australian Apprenticeships NT after attending the Australian Training awards. Her role now is to help apprentices in the Territory find jobs – exactly what she was trying to do just months ago.
"We interview apprentices and trainees, aptitude test them, and find a business best suited to the apprentice and the company," she said.
During her final year, Kate trained with the NT Office of the Commissioner for Public Employment and won the NT School Based Apprentice or Trainee of the Year Award.
"My commitment has come from my desire to succeed and see things through," she said. "As I completed my vocational courses my self-confidence and my desire to continue learning also grew."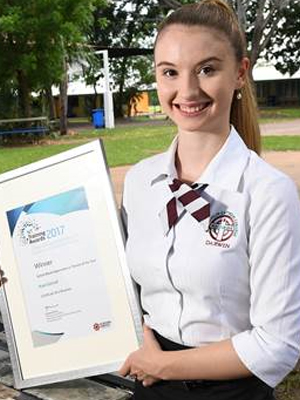 ---
Last updated: 14 February 2018
Give feedback about this page.
Share this page:
URL copied!