Hasoni Al-Ibrahim
Stuart Park Primary School graduate Hasoni Al-Ibrahim received the Sally Bruyn Senior Primary School Science Award for demonstrating achievements in science learning and understanding in the classroom.
The former Year 6 scholar said he was very pleased that his work had been acknowledged with a prize.
"I did my work and worked hard, and waited and I got my result," he said. "(My parents) were very happy, they were very proud, and we went out to dinner to celebrate."
Hasoni has a strong desire to learn, and enthusiastically reads and investigates in his own time.
"I have two favourite subjects – science and maths. There are a lot of things to look up and examine, and I do a lot of research on the internet, and in books," he said.
Hasoni would like a career in the medical industry, but for now he is focussing on being a Year 7 student at Darwin Middle School.
"The work is a lot more challenging at Darwin Middle School, and I'm moving around more often from class to class," he said.
"A lot of the teachers gave us tips about middle school – they said we have to study this way, and do things in a certain way."
Hasoni has also found more opportunities at his new school, and is on the lookout for competitions he can enter, such as the brain bending Tournament of Minds.
"I've only been here three weeks, and I've already found an event," he said.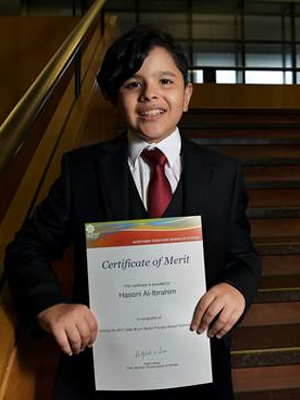 ---
Last updated: 15 February 2018
Give feedback about this page.
Share this page:
URL copied!