Remote Aboriginal Teacher Education (RATE) Pilot Program

Teachers have the biggest in-school impact on positive student learning outcomes. Local Aboriginal teachers have an ongoing commitment to their communities, and are highly valued leaders because of their deep knowledge of local languages and context.
In 2021 a new Remote Aboriginal Teacher Education (RATE) pilot will commence. This pilot will enable aspiring teachers in Northern Territory communities to study teaching while living and working on Country.
The 2021 RATE pilot will be tailored to meet site specific needs, and will include:
ongoing engagement with local communities,
negotiated agreements with education settings and ongoing systemic support, and
aspiring teachers engaging in study pathways that are based on career aspirations and preferred ways of learning.
The 2021 RATE pilot will start in a small number of sites that have the following attributes:
cohorts of aspiring teachers who are ready to enter tertiary education,
relevant community support in place, and
school support and structures in place.
The department is currently in consultation with community and school leaders, aspiring teachers and local support services in Galiwinku, Yuendumu, Milingimbi and Angurugu. 2021 RATE pilot sites will be announced on the department's website early 2021 after further consultation.
Learnings from implementation of the 2021 pilot, and continued consultation with stakeholders, will inform a long-term sustainable program that meets the needs of communities into the future.
For further information about the 2021 RATE pilot, please email educapability.doe@nt.gov.au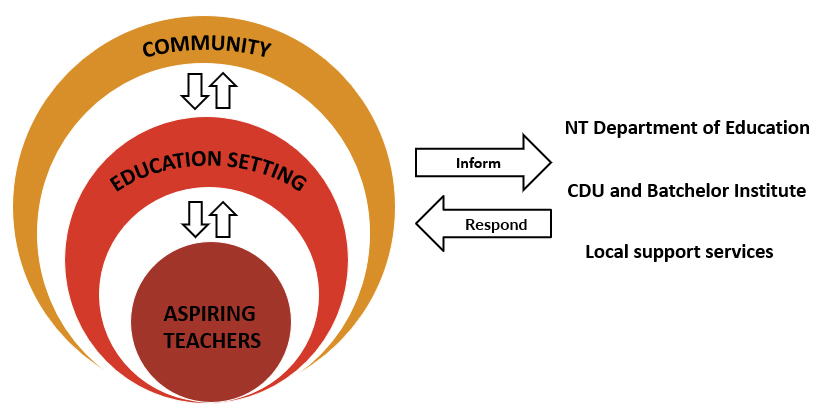 Alternative support for Aboriginal educators is also available through the following programs:
Assistant Teacher Project
What: To support enrolment and study in education-related VET qualifications
Who for: Aboriginal Assistant Teachers and classroom support staff in remote NT settings
Contact: assistant-teach.det@nt.gov.au
Aboriginal Teacher Education Scholarship
What: To support study in teacher education courses (at Bachelor or Masters level)
Who for: Aspiring teachers in urban and remote NT settings
Contact: aboriginalschola.doe@nt.gov.au
Last updated: 16 December 2020
Share this page: