Strategic plan progress report 31 December 2014
Goal 1: A great start for children
66 per cent of all Northern Territory early childhood and care services have been issued with a quality rating against the National Quality Standards, higher than the national average of 52 per cent. Berry Springs Preschool achieved the highest possible rating of Excellent, one of only 27 services nationally and the first in the NT.
Over 850 children and their families accessed the Families as First Teachers program in 21 remote communities across the NT.
The Little People, Big Dreams 2014 Early Childhood and School Aged Education and Care Conference was held in Darwin and attended by 330 educators. The conference focused on pre-literacy and numeracy strategies.
Resources have been developed for educators and parents to support pre-literacy and numeracy strategies, and readiness for schooling. Over 990 remote Indigenous families have been provided with high quality free picture books and coaching on the effective use of the books and oral language development for their children.
Five child and family centres have been completed at Gunbalanya, Maningrida, Ngukurr, Palmerston and Yuendumu.
Goal 2: Every student a successful learner
In 2014, 885 students in government schools gained a Northern Territory Certificate of Education and Training (NTCET), an increase of 72 students compared to 2013 (refer Figure 1).
Through various enrolment and attendance strategies, students and families are being engaged to address barriers to attendance.
There has been an 11 per cent increase in student attendance across 34 government and non-government schools participating in the Australian Government's Remote School Attendance Strategy.
Overall non-Indigenous student attendance of four days per week or more increased, although Indigenous student attendance slightly declined (refer Figure 2).
A Share in the Future - Review of Indigenous Education was completed and a 10-year Indigenous Education Strategy developed to address the challenges facing the NT to improve outcomes, particularly for Indigenous students.
The 2014 National Assessment Program Literacy and Numeracy (NAPLAN) results indicate promising improvement for government schools with two-year gains for students moving from Year 3 in 2012 to Year 5 in 2014, bettering the national average rate of improvement in reading, spelling, grammar, writing, punctuation and numeracy. There have been notable improvements in NT Indigenous students' grammar, punctuation and reading results which improved at a greater rate than the national average.
Critical Incident Response teams are assisting schools to manage critical incidents.
Schools are implementing the Australian Curriculum in English, Mathematics, History and Science.
Figure 1: Number of NTCET completions in government schools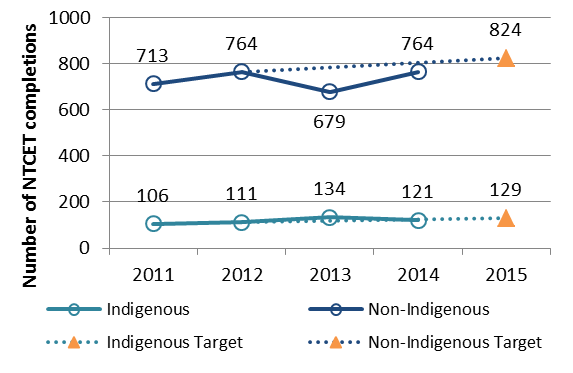 Source: 1. Schools Online. 2. AgeGrade (collected on the first Friday in August each year).
Figure 2: Proportion of students attending four days per week or more in government schools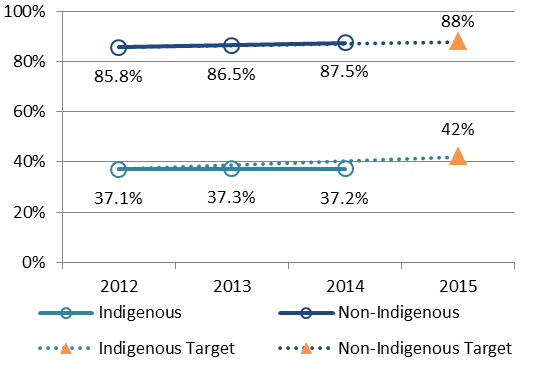 Source: Student Activity (Performance Reporting)
Goal 3: Quality leaders, quality teachers, quality schools
The Teacher Professional Development Framework, aligned to the Australian Professional Standards for Teachers, was rolled out across all schools in 2014
School reviews and principal performance reviews aligned to the national professional standards continue to be undertaken to improve school quality and performance.
To better inform evidence-based decision-making across the department, significant effort has been put into enhancing data systems.
New relationships with a range of industry sectors have been developed to better integrate school programs with vocational education opportunities. This includes the creation of a police cadets program to begin in 2015 with Police, Fire and Emergency Services.
With a focus on effective teaching of literacy and numeracy, planning has commenced for the introduction of two student assessments to measure growth in mathematics and reading. These tests were developed by the Australian Council for Education Research — Progressive Achievement Tests (PAT) in Mathematics and Reading — and will be implemented in all Northern Territory government schools for students in Year 1 to Year 10 from 2015.
33 Highly Accomplished and Lead Teachers are working in government schools.
Goal 4: Responsive services and systems
A needs-based student resource allocation model for schools has been developed and global school budgets commenced in 2015.
Government announced key infrastructure projects for three new schools, refurbishments, classrooms and extensions from 2014–18 to support increased student enrolment demand, following a review into school infrastructure needs in the greater Darwin area.
Development of a strategic workforce planning framework has commenced and will be informed by national workforce data, and aligned with the Indigenous Education Strategy and Northern Territory Public Sector employment strategies.

Work continues on reforming the Education Act to ensure it reflects the education needs of Territory students now and into the future. 42 consultation workshops have been held across the Territory which over 260 people attended, and 45 written submissions received.
Goal 5: Building productive partnerships
The department has been working in collaboration with some schools and communities to support changes to their service delivery model and governance arrangements. In 2015, Docker River School will transition to become part of Nyangatjatjara College – an independent school, run by the Nyangatjatjara Aboriginal Corporation, which offers a secondary education program in the community.
The Northern Territory Government worked with the Australian Government to realign the Stronger Futures Schooling Implementation Plan with the Northern Territory's long-term strategy for improving Indigenous student outcomes, A Share in the Future Indigenous Strategy 2015-2024.
38 non-government schools are registered to provide education services in the Northern Territory. Routine assessments were conducted in six schools to monitor compliance with registration requirements under the Education Act.
A 10-year Northern Territory International Education and Training Strategy has been developed and will focus on further developing relationships with Asia.
---
Last updated: 09 December 2016
Give feedback about this page.
Share this page:
URL copied!