Teaching in the Territory Excellence Awards
Do you know an inspirational and dedicated educator?
The Teaching in the Territory Excellence Awards recognise the contribution of Northern Territory Government school teachers, principals, leaders and support staff to quality education.
Nominations can be submitted by school staff, students, parents and guardians and members of the community.
The Northern Territory and regional winners are announced at events on World Teachers' Day. Read more about World Teachers' Day.
The Teach in the Territory Excellence Awards are sponsored by the Teachers Mutual Bank.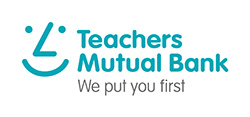 Nominations
Nominations for the 2019 Teaching in the Territory Excellence Award will be open from 1st May - 24th May. Any student, parent, colleague, principal, member of the school council or community can nominate a Northern Territory Government school teacher, principal, leader or support staff member for the 2019 Teaching in the Territory Excellence Awards.
Terms and conditions
Only employees working in Northern Territory government schools can be nominated for these awards.
Nominees can be nominated for more than one category, however they are only eligible to win one award.
Nominations will not be accepted after the advertised closing date.
To be considered, nominees must show significant personal contribution to student engagement, growth and achievement.
Nominees must meet the eligibility criteria, outlined in the award category.
Reasons for nominating must not exceed 250 words.
The Department of Education reserves the right not to award a winner or regional finalist in a category and the decision is final.
The Department of Education will not accept responsibility for incomplete, damaged, corrupt or entries not received by the closing date.
Nominations will remain the property of the Northern Territory Government and may be reproduced in electronic or print format.
All information provided to support a nomination is subject to the provisions of the Information Act (NT) (the Act) and may be provided to the nominee on request, in accordance with the Act.
Information pertaining to individuals and/or individual students is considered confidential and should not be released without the written permission of the parent, guardian or student concerned.
Regional and Northern Territory finalists will be endorsed and selected based on the information provided in the nomination form.
Regional category winners will progress as finalists to the overall Northern Territory awards in each category.
Failure to comply with the terms and conditions may result in nominations not being accepted.
2019 Teaching in the Territory Excellence Awards Categories
| Category | Eligibility |
| --- | --- |
| Northern Territory Principal of the Year | Principals. |
| Northern Territory Leadership in Schools | Teaching principals and assistant principals, teaching teams, professional learning communities, Highly Accomplished and Lead Teachers, senior teachers and mentor teachers. |
| Northern Territory Aboriginal Educator of the Year | Aboriginal Principals, school leaders, teachers, assistant teachers and support staff. |
| Northern Territory Special Educator of the Year | Special education teacher and support staff. |
| Northern Territory Primary Teacher of the Year | Early childhood and Primary teachers, including Families as First Teachers (FaFT) educators. |
| Northern Territory Secondary Teacher of the Year | Middle years and senior secondary teachers. |
| Northern Territory Vocational Education Trainer of the Year | Vocational education trainers and teachers. |
| Northern Territory Education Support Person of the Year | Assistant teachers, support staff and professionals working in classroom contexts, including Families as First Teachers (FaFT) liaison officers. |
2018 winners
Contact
For more information contact the Department of Education via email at:
Last updated: 10 July 2019