Orientation and induction for remote teachers
Hide menu
Induction information for principals
Induction information for principals
Principals and school leaders play an essential role in local induction for remote teachers.
You can assist with the induction of new teachers to your school by:
contacting teachers prior to arrival at the school to plan and clarify important information
providing a school-specific welcome pack for new teachers
providing school and community specific local induction supported by formalised mentoring.
Welcome pack
Welcome packs can be tailored to suit the role of individual teachers. They may be provided on arrival or emailed to the teacher before commencing at the school.
What to include in a welcome pack
a welcome letter
previous school newsletter/s
information about the school including any relevant strategic and implementation plans
school procedures and policies
plan of the school
organisational chart – photos of key personnel can help
school structures – key committees and decision-making processes
professional learning communities operating within the school
employment conditions
where to report, and to whom, on the first day
job description
key school policies and emergency procedures
calendar of school events and holiday dates
daily routines including arrival and departure times, staff meetings, yard duty.
Ongoing support
You can support new teachers by:
providing a mentor
assisting them to understand and engage with teacher probation processes to meet Teacher Registration Board requirements
working with the new teacher to establish and maintain their professional growth plan
scheduling regular times to meet and check if there are any issues or needs
providing opportunities for feedback.
Local induction implementation resources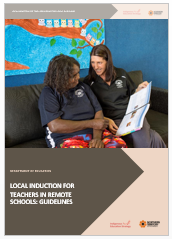 Local Induction for teachers in remote schools: guidelines DOCX (345.8 KB)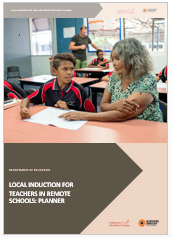 Local induction for teachers in remote schools: planner DOCX (267.1 KB)
Additional resources
Go to the Australian Institute for Teaching and School Leadership (AITSL) web site to access more information about induction for early career teachers.
Graduate to proficient: Australian guidelines for teacher induction into the profession PDF (294.0 KB)
Print all pages in this section
---
Last updated: 06 January 2021
Give feedback about this page.
Share this page:
URL copied!