Tony's Message
Welcome to the 19th edition of the Indigenous Education Strategy newsletter highlighting recent news from Arnhem Land including the Garma Festival where local and interstate students from Yirrkala, Nhulunbuy, Elcho Island, Ntaria, Queensland and Western Australia came together to share their knowledge and experiences with fellow students.
During what is always a spectacular celebration of Yolngu culture, I had the privilege of engaging with students, families, community members and our partners who generously shared their views and ideas for the future of remote education in the Northern Territory.
I also enjoyed hearing the many speakers including our own Senior Teacher Cameron Adams who, together with Yothu Yindi Foundation's Peter Solly, introduced the new Foundational Learning program for students aged 14-17 living in Arnhem Land.
Finally, thank you to everyone who took the time to visit the NT Department of Education stall over the busy four day event and to those who helped make the youth forums so engaging, including our dedicated staff and students.
Tony Considine, General Manager Engagement & Partnerships
---
Communities Empowered in School Decisions
As part of the Northern Territory Government's commitment to drive local decision making, the Department of Education is working to support families in remote Aboriginal communities to have a bigger say in the education and training of their children.
The two key projects driving this change are:
Local Engagement and Decision Making
Local Engagement and Decision Making will involve the establishment of Local Engagement and Decision Making Committees in over 50 remote communities. These committees will work closely with schools to ensure the decisions being made on a day to day basis better reflect the needs and wants of parents as well as the wider community.
Community-Led Schools
Community-Led Schools will empower and support a number of remote communities to establish formally recognised school decision making bodies and mechanisms so they can lead the running of their schools.
Co-Director of Community Engagement at the NT Department of Education Joe Brown believes this is an important first step in supporting Aboriginal communities to get more involved in school decisions.
"It is about giving Aboriginal parents and communities a much bigger say in the education and training of their children," he said.
"For some communities it will be about the name of the school or the design of school uniforms but for others it will be about what students learn, how they learn it and the way the school itself reflects the community's cultural values," he said.
The department has commenced discussions with a number of interested communities about their involvement and will look to establish the first official Local Engagement and Decision Making Committee and the first Community Led School in 2019 following extensive community engagement.
Download Local Decision Making Brochure PDF (1.2 MB)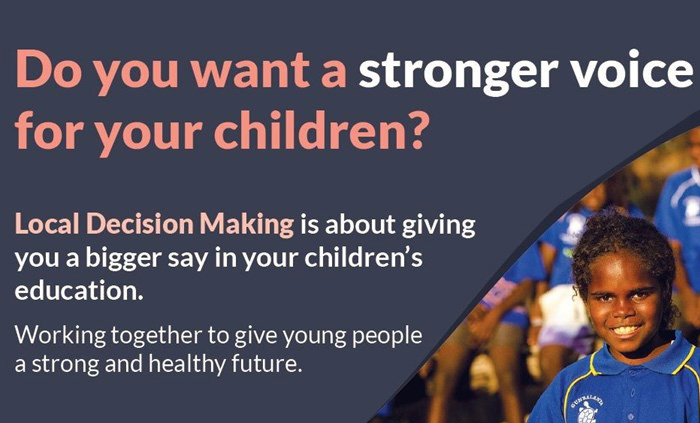 ---
Foundational Learning Dream Comes To Life
A new foundational learning program using traditional knowledge to bridge the gap to mainstream education was introduced at Garma in North East Arnhem Land.
Dhupuma Foundational Learning is the realisation of a long-held dream by Yolngu elders and is being delivered in partnership by cultural leaders, the Yothu Yindi Foundation (YYF) and the Department of Education.
The program delivers a unique curriculum for local students at risk of becoming disconnected from traditional education settings.
Senior Teacher Cameron Adams is implementing the learning program designed to engage the students and prepare them for employment.
"My role is to work closely with the students on a day to day basis to engage them through purposeful and flexible learning experiences that motivate and challenge them," he said.
"The partnership with the Yothu Yindi Foundation has been integral in creating a holistic, culturally appropriate and responsive learning environment to help transition them into employment or further study."
Recently, a group of foundational learning students had the opportunity to showcase the depth of their cultural knowledge, helping run traditional healing ceremonies called Raypirri, meaning respect and self-discipline, together with Miwatj Health Aboriginal Corporation at Garma.
In June the students ran cultural tours for a group of Melbourne Girls Grammar School students, collecting seeds, bark, and reeds while sharing their knowledge of country and cultural traditions that have been passed down for many generations.
YYF chairman and Gumatj leader Dr Galarrwuy Yunupingu said the Dhupuma Foundational Learning program was the culmination of many years of hard work by Yolngu leaders.
"Education is at the heart of everything we do, and the creation of a special program for education and culture in northeast Arnhem Land has been a vision of the YYF since its inception in the 1990s," he said.
"The program weaves together an education in Yolngu cultural traditions along with a more mainstream curriculum that emphasises things like literacy and numeracy skills.''
The Dhupuma Foundational Learning program is for young people aged between 14 and 17 years.
Dhupuma means looking up and ahead.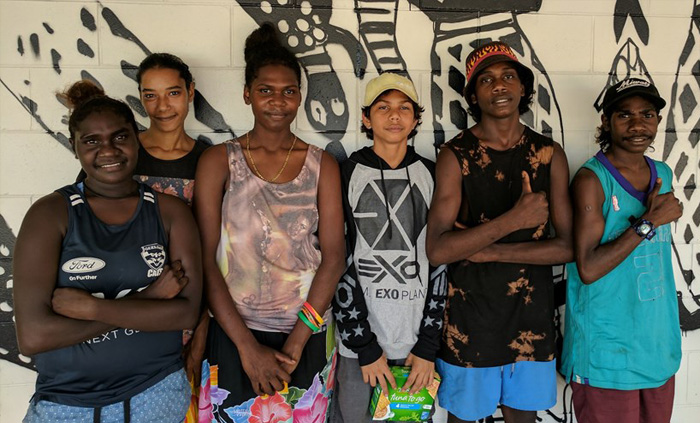 ---
Drumming Up Support For Language In Schools
Senior Yolngu woman and Co-Principal of Yirrkala School Merrki Ganambarr-Stubbs joined an esteemed panel on ABC's The Drum to explore this year's Garma theme of "truth telling".
Merrki was joined by prominent Aboriginal leaders Professor Marcia Langdon, Andrea Mason, Joe Williams and Sally Scales, to discuss a variety of topics including gender equality, politics, mental health and domestic violence.
As the conversation turned to education Merrki highlighted the important role that language plays in education in her own community.
"I am very passionate about children and education and language," she said.
"Yolngu and Indigenous and Torres Strait Islander people who have their first language should learn and speak their own language in schools. Australia should encourage our Indigenous languages.
It is not just one language, there are many languages in Australia."
Merrki went on to describe the way two-way learning happens at Yirrkala School where her students are first taught outside, on Country before moving inside to explore the same topic from a western perspective under the Australia Curriculum.
"They are [first] taught on the land and then we go into the classroom to look at the western curricula.
Thinking in the Yolngu way and then going to the Western way makes it so easy," she said.
This approach is made possible by a fully equipped language and resource production centre based at Yirrkala Community School, which has won national and international recognition for its work in supporting the school's bi-lingual learning program.
A new Indigenous Languages and Cultures Curriculum has been written and is currently being trialled to help support more remote schools keep their Indigenous languages and cultures strong.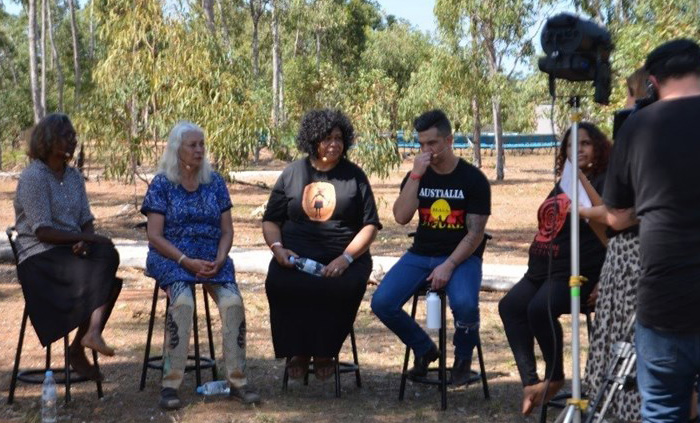 ---
FaFT Mums Reconnect at Garma
Kyaciah and her daughter Azelea enjoyed the shade and company of other parents at the Families as First Teachers (FaFT) play space at the Garma Festival.
Kyaciah attended FaFT for the first time when Azelea was just three weeks old. She said it was a great way to meet other Mum's especially since she had just returned home to Arnhem Land after living in Adelaide.
"I've just returned from Adelaide where I've been living for the last 12 months," she said.
"I came back because I miss this place; the seafood, the water, the hunting and the people."
FaFT is an early childhood program for children aged from birth to four years and their families. It uses play based experiences and activities to increase a child's development while working with parents to build capacity.
"I love meeting other mums at the FaFT and watching my little girl meeting other children her age," Kyaciah said.
"We sing songs and do different activities. We cook for our kids and swap recipes and ideas."
The FaFT play space at the Garma Festival was popular with babies and toddlers, mothers and fathers, aunties and grandmothers who made the most of the interactive learning opportunities on offer, playing games, singing songs and making clay animals together.
Families as First Teachers operates across 38 sites in the Northern Territory.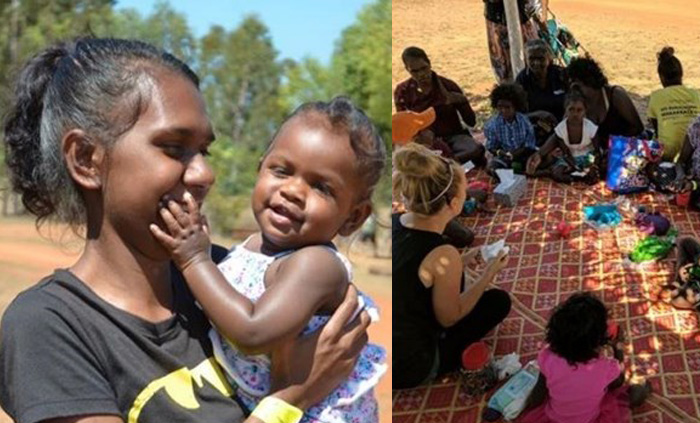 ---
Dancing To Their Own Tunes
Students at the Garma Festival donned headphones, tapped screens and played marimbas, ukuleles, guitars and bucket drums to create their own tunes as part of interactive music making workshops run by the Northern Territory Music School.
Gove-based NT Music School teacher Bob Pearse, who facilitated the workshops with Darwin-based NT Music School teacher Kris Keogh said the aim was to inspire the students and get them excited and creating.
Some students worked with an easy to use, accessible music making application called Groovebox to record their electronic sound tracks which were then played on loudspeakers across the festival.
"The students were really excited to share their music and hear it being played over the loud speaker," said Kris Keogh.
"They've been making some pretty awesome beats this morning," said Bob Pearse.
The Northern Territory Music School has a proud 45 year history and teaches more than 1150 students from across the Territory in Years 5 to 12 weekly music and performing arts programs, including Battle of the School Bands, VAMPtv, Rising Star and The Beat.
Download your favourite electronic sound tracks from Garma including Ntaria Jam, Galiwin'ku Crew and Sheperdson Boyz.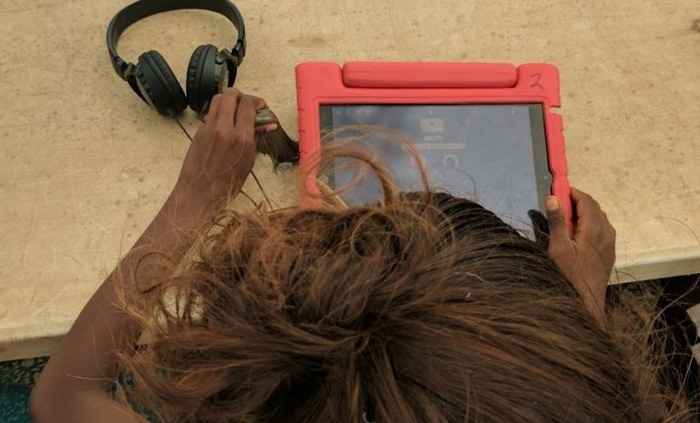 ---
FaFT Family Portraits On Display
A photo exhibition featuring 29 beautiful portraits that capture Yolngu families living in North-East Arnhem Land was on display at the Live DARWIN Hub in Smith St Mall last month.
The project - Gurrutu'mi Mala Wungili - Family on Country Portrait Project – is an initiative of the Yirrkala Families as First Teachers (FaFT) program and showcases the communities pride in country culture and family.
Yirrkala FaFT educator and project coordinator Belinda Moreton worked with Nhulunbuy photographer Leicolhn McKellar to capture the images of families on country.
"During the portrait sessions, stories were told and precious memories were shared," she said.
"We walked on ground where babies were birthed, where young people fell in love, and where people lived before a mission, a mine and a town came to change life and Country forever.
"We saw tears fall – for people and ways of the past that are now gone, but also tears of pride and love for babies in arms that are the future."
Yirrkala School Council Chairperson and Senior Yolngu woman Yananymul Mununggurr, said that for her the exhibition was about the strong connection between family and country and the deep love that Yolngu parents have for their children.
"We had to choose a particular place we knew. For my family, it was at Shady Beach because we have connections to Shady Beach; it was my mother's country," she said.
"Family coming together on country. I think that's the story these pictures tell."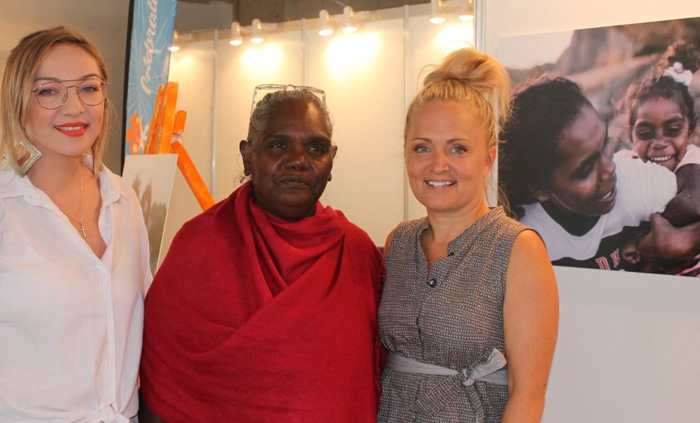 ---
Student-Led Tours Of Dawurr
Educators, philanthropists, corporate leaders and senior Commonwealth Government officials toured Dawurr residential boarding facility in Nhulunbuy during the Garma festival education fair.
Winston Lami Lami from Warruwi was one of several Year 8 students who led the tours, showcasing the modern facilities and sharing details of daily life at the school.
"I was a bit nervous to begin with, but I talked about the things I enjoy most about living here, like spending lots of time with my friends and playing sport after school," he said.
"I can also fly home to see my family whenever I need to because it's not too far away."
The students cooked damper and freshly caught fish on an open fire pit, displaying their culinary skills and some of the region's finest local produce.
Dawurr was designed to provide students and families living in remote Arnhem Land communities with a secondary school option closer to home.
The multi-million dollar boarding facility began operating in 2017, and houses up to 40 students in one, two and four student bedrooms.
It also features a fully equipped commercial kitchen and dining room, tuition rooms, family accommodation, a multi-purpose art and music centre, amphitheatre, sporting facilities and open plan gardens.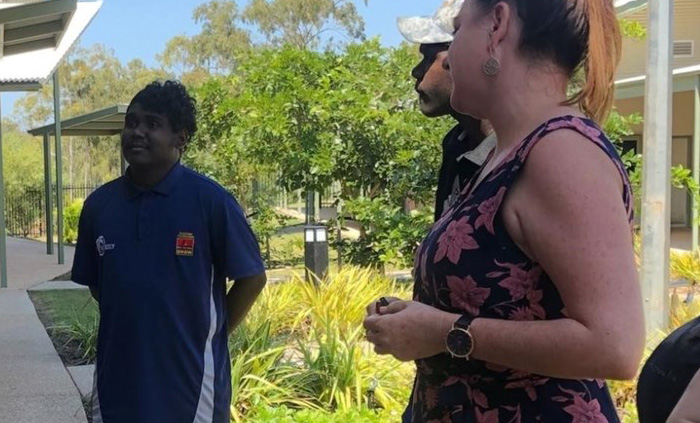 ---