Tony's Message
It has been a busy start to 2018 as the second stage of the Indigenous Education Strategy gets underway.
In this edition, we wrap up the first three years of implementation and reflect on what has been achieved to date, including the 25 initiatives that we have researched, designed, built and delivered since 2015.
We also look ahead to the second stage of the strategy's implementation (2018-2020), which has 18 key actions and projects including the continuation of 15 projects from stage one along with three new projects that were identified through the consultation process that took place in 2017.
One of the highlights so far this year has been the establishment of a new unit to implement the community engagement and community led schools initiative, which will set the tone for the way we work with our remote schools and communities moving forward.
Our commitment to more meaningful community engagement follows on from the important work undertaken by the Community Engagement Charter team over the last three years and aligns directly to the department's new 2018-2022 Strategy, which aims to ensure each and every one of the Territory's children engage and grow to achieve.
Finally, I would like to take this opportunity to acknowledge the collective efforts of our remote schools, students, families and communities and I look forward to sharing more inspiring stories with you throughout the year.
Tony
---
Wrapping It Up
As we wrap-up the first stage of the Indigenous Education Strategy's implementation (2015-2017), we reflect on the progress made to date with 25 new projects and programs successfully researched, designed, built and implemented during the first three years.
By the end of 2017, remote schools were implementing new approaches in early childhood, primary literacy and numeracy, secondary pathways, community engagement and workforce including expansion of the Families as First Teachers program, establishment of a new Transition Support Unit, the girls' engagement program and Employment Pathways.
Other highlights from Stage One include:
Launch of a new Northern Territory Pre-School Curriculum.
Establishment and resourcing of six new integrated Child and Family Centres to act as community hubs for the delivery of essential early childhood services across government.
Creation of new early childhood transitioning resources to help make each child's transition through the early years as smooth as possible.
Expansion of the Families as First Teacher (FaFT) program from 21 to 33 sites with about 1661 children and 1676 parents or carers participating in the program at the end of 2017.
Implementation of the ASQ-TRAK early childhood development screening tool in 70 per cent of remote communities to more accurately determine and plan around individual child development needs.
Establishment of a new Transition Support Unit (TSU) to assist remote students transition to boarding school. TSU serviced 78 remote schools and more than 1900 Northern Territory students from more than 250 different locations in 2017.
32 schools delivered the Employment Pathways program and the NT Board of Studies endorsed the Employment Pathways curriculum in 2016 as an alternative secondary years curriculum in remote and very remote schools.
A whole-school approach to positive behaviour was developed with 79 schools engaged in social and emotional learning curriculum.
Literacy and Numeracy Essentials (LANE) programs and tools were implemented in 74 remote schools across five regions and teaching resources supporting LANE have been finalised.
All remote schools have implemented new diagnostic testing for years 1 to 10 in reading and maths to help teachers improve support for students.
New resources to support principal performance, coaching, mentoring and remote principal inductions were created with 95 principals and senior teachers engaged in coaching programs in 2017.
Community engagement charters were developed in very remote schools and will underpin and inform the new Community Engagement and Community Led Schools initiative.
The Department of Education (DoE) is committed to continuing to drive improved Aboriginal education outcomes through the 10 year Indigenous Education Strategy 2015-2024 to ensure that all Aboriginal students in the Northern Territory have the opportunity to engage, grow and achieve.
An independent evaluation of the first stage of implementation is currently being conducted by external consultants ACIL Allen. The final report is anticipated to be published towards the middle of 2018.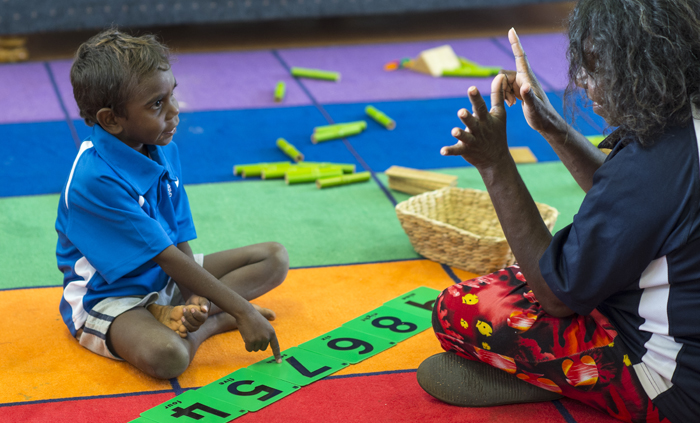 ---
Gunbalanya Families Boost Attendance
In the past three years Gunbalanya Families as First Teachers (FaFT) has tripled its attendance, reflecting strong community involvement in the teaching initiative.
Families as First Teachers Educator Louise Cooke, who has worked in remote Territory communities for nearly 15 years, said it was encouraging to have about 69 children enrolled in the program.
"Over the past three years we have worked hard to build trust and strong relationships with our parents and the community," she said.
"It's wonderful to have so many children and their families attending regularly, because FaFT is the start of a child's learning journey and will help to set them up for life."
Louise also recognised the important role that Learning on Country activities at FaFT can play in keeping parents and children engaged.
"Last time we went out bush we saw lots of language being used, and lots of interactions taking place,'' she said.
"We see lots of opportunities for really rich language development and early learning experiences on these trips, which might not be possible otherwise, as not everyone here has a car or can make time for that quality interactive learning together."
Aboriginal Family Liaison Officer Michelle Bangarr, who has also worked in education for nearly 15 years, said that on-country learning was pivotal to creating strong connections with the community.
"We go on bush trips to help the children and parents share learning time together,'' she said.
"The families and the community decide where we go. They are the one's teaching their children. The children are copying what their parents are doing. Showing them and talking to them about what they are seeing."
The community has also worked hard to maximise the number of children who transition from FaFT into the preschool, with 24 out of 30 preschool enrolments in 2018 coming from FaFT.
Last year, 92 per cent of children aged 0-4 years who live in the surrounding area enrolled in FaFT, highlighting the program's popularity amongst families in the community.
FaFT operates at 38 sites in the Northern Territory including urban, remote and very remote communities.
In 2017, 1661 children and 1676 families were supported by the program, which also has strong local employment focus with about 57 per cent of FaFT staff identifying as Aboriginal.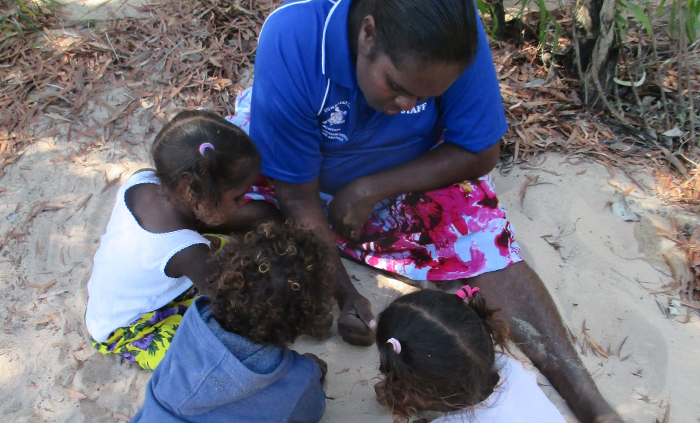 ---
Keeping Arrernte Strong
Centralian Senior College students are revitalising their language skills and taking pride in their Aboriginal culture by learning to read, write and work in both Arrernte and English.
Harley Wallace, one of the Alice Springs students studying Arrernte as part of a vocational education and training (VET) course, said he was proud to be learning his own language in school.
"I like learning Arrernte because it's my language," he said.
"My Nanna told me to always be proud of who I am and my culture. To be happy to have Arrernte in my blood."
With this year's trials of a new Indigenous Languages and Cultures curriculum, the number of students studying an Aboriginal language in schools is set to increase.
The new curriculum comprises four different pathways and offers schools and students a variety of options depending on their current level of Aboriginal language proficiency.
David Moore, Linguist Alyawarr & Arrernte at the Alice Springs Language Centre, said language had become a hot topic for community discussion in the last 12 months.
"Everywhere we go, they (the Elders) want to keep the language and culture strong because they want to hand on their culture and traditions to the kids,'' he said.
"We need to create a system that brings the elders and teachers back into the school. We have to honour the older people who know the language."
The new curriculum and guidelines for the implementation of Indigenous languages and Cultures programs in schools are part of a long-term plan for Territory schools to keep Indigenous languages and cultures strong.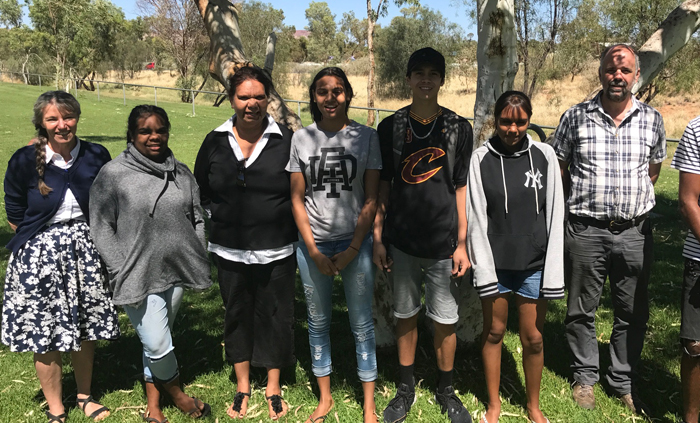 ---
Yirrkala Language Centre Recognised
The Literature Production Centre team at Yirrkala School North East Arnhem Land was awarded the 2017 Australian Education Union (AEU) Arthur Hamilton Award for Outstanding Contribution to Aboriginal and Torres Strait Islander Education at a ceremony in Melbourne.
The award recognises the outstanding contribution Yalmay Yunupingu, Rärriwuy Marika, Bamurungu Munungurr and Jake Stockley have made to the school's bilingual education program for Yolŋu students.
Yalmay Yunupingu, Yirrkala School Teacher Linguist said recognition for the award must be given to all the people, Yolŋu and Balanda or non-Indigenous, that have contributed to 40 years of successful bilingual education at Yirrkala School.
"Literature Production Centre dhaŋum ŋayi ŋaraka. Ŋalmaliŋguru djorra'wu, dhäwuwu, romgu ga dhärukku. Djalkiri dhaŋum yaka ŋayathan," she said.
"The Literature Production Centre is the backbone, for our books, our stories, our culture and our languages. This is the foundation."
Literature Production Supervisor Jake Stockley said the centre co-ordinates the Yolŋu Indigenous Languages and Culture program including, Yolŋu Matha, Galtha Rom and Garma Maths and supports Yolŋu teachers to deliver the school's bilingual program.
"Dhuwaya Yolŋu Matha is the language the children speak and it's the language they think in so without these resources the children would be at a severe disadvantage when learning anything new,'' he said.
"We select and produce the resources in Dhuwaya Yolŋu Matha for the teachers to use - the books, songs, videos, activity sheets, dictionaries, certificates, flash cards, alphabet charts, translations, posters and pretty much everything you can imagine a teacher might need to teach a child reading, writing, mathematics, history, science or any other curriculum area.
"We do that with the help of other Yolŋu and Balanda and the teachers who speak Yolŋu Matha will come into the centre to make their own teaching resources as well.
"I was born here in Yirrkala and have a long connection to this place. It's so great to see Yolŋu children being given the opportunity to learn using their first language and to see people like Yalmay and Rärriwuy being recognised for their life long efforts."
A new Indigenous Languages and Cultures curriculum has been published and is currently being trialled in several Northern Territory schools to help give all Territorians the opportunity to benefit from keeping Indigenous languages and cultures strong.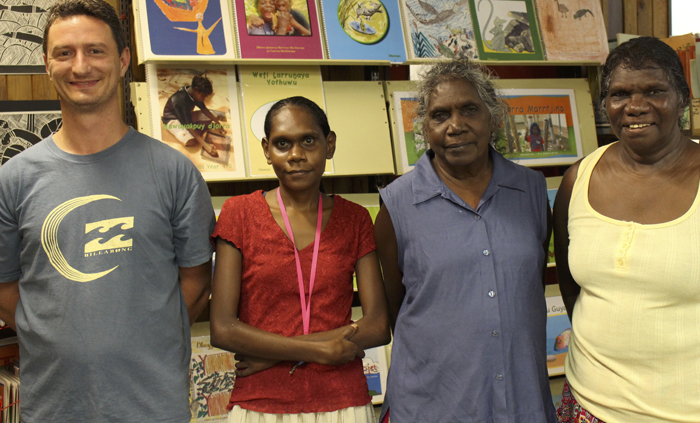 ---
Tristan's Transition Support
Tristan Duggie knows what it's like to move from a remote community to attend boarding school and the fears and challenges that can come with it.
As a youngster he moved from his community Mungkarta near Tennant Creek to several boarding schools including St John's in Darwin and now shares his knowledge and experience helping students from the Barkly region transition to boarding school as part of his role as Student and Family Support Officer with the Transition Support Unit (TSU).
He assists about 20 students and families from about 10 different communities with the boarding school process – everything from getting formal identification, to enrolment and preparing students for boarding school life.
"It's hard, the whole moving process is hard because you've never done it before and you're leaving everything behind," Tristan said.
"To be a remote student who then has to travel to Alice or Darwin or interstate, that's got to be scary – you get worried about being able to speak language and being able to find your flight."
TSU serviced 78 remote schools and assisted 1900 NT students from 250 different NT locations to attend boarding school in 2017.
Tristan said it was important to have a service like TSU to work with students and their families and to provide on-going support and encouragement.
"TSU provides good engagement and I love working with the families and students. It's very handy to have local knowledge too as it helps to develop relationships with communities,'' he said.
"Our students, with encouragement and support, can do very well at boarding school and TSU helps with a lot of that.
The biggest challenge for Tristan when he went to boarding school was leaving his language and culture behind and the fear he may lose his traditional knowledge.
"I ended up finishing Year 12 and all the way through I worried about leaving everything at home; my language and culture,'' he said.
"I didn't lose anything and I still sit down with the elders and have that knowledge – and there's still a lot more for me to learn.
"I'm now reading and writing in my third language and I'm learning to speak my fourth language. I was so worried about losing my language and culture but you can always come back to culture. You just need to keep it strong.''
---
Boarding Winner Tells It Like It Is
Boarding school student Tiara Douglas from Titjikala recently travelled to Canberra to participate in the Heywire Regional Youth Summit.
The summit, now in its 20th year, attracted 54 students from across the country who developed proposals and pitched their ideas for positive community change to community leaders, senators, members of parliament and media at Parliament House.
At the forum Tiara shared her story about 'leaving my remote community for boarding school,' which describes the challenges she faced when transitioning from her remote community school to boarding school.
Her submission was one of nearly 700 entries, portraying obstacles overcome to achieve success, and depicting cultural pride.
"I moved a very long way from home to attend boarding school at Worawa Aboriginal College in Healesville, Victoria," she said.
"I remember getting out of the plane in Melbourne wearing shorts and a t-shirt. I felt the cold breeze and started to shiver. It was lonely at first because I didn't know anyone. And it was very different to home."
Tiara's story also highlights the connection she enjoys whenever she returns home to Titjikala.
"Now when I go home to Titjikala in the holidays and I love seeing my sisters and the rest of my family. I love the warmth and going swimming out in the dams,'' she said.
"I'm lucky to have two places where I feel at home."
Tiara was supported by the Transition Support Unit, which assists boarding students and families throughout the Territory to make a smooth and successful transition to boarding school. In 2017, the Transition Support Unit serviced 78 remote schools and assisted 1900 NT students from 250 different NT locations to attend boarding school in 2017.
Audio File (ABC media)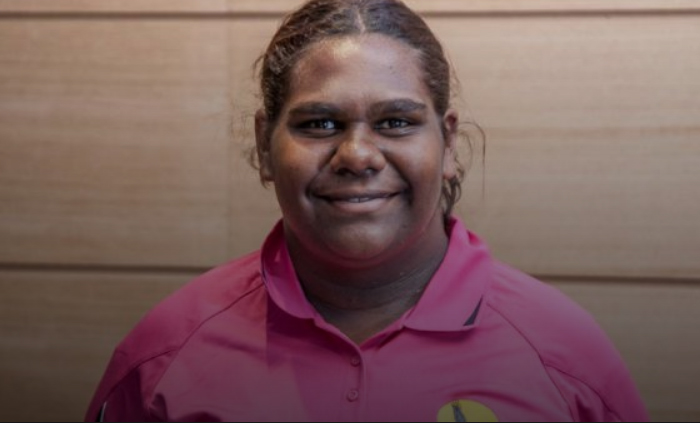 ---
Stars Boost Year 12 Completion Rates
Stars Foundation girls are completing Year 12 at significantly higher rates than other Indigenous students with data released in February showing a 96 per cent completion rate in 2017.
Tennant Creek Stars students said the secret to their success was determination and the support of those around them.
"Stay focused in your last year and do the best you can," Delaicee Hansen said.
"Go to school every day and take the opportunities you can," Meghan Munckton said.
Stars Foundation Chief Executive Andrea Goddard said the program operates in eight locations across the Territory and is focused on providing a positive school environment and building individual capacity.
"We know school attendance is critical in gaining core skills, such as literacy and numeracy," she said.
"We also know that achieving a higher level of education is one of the key factors likely to reduce Indigenous disadvantage, and that extra time at school is key to our students achieving their best."
The Stars Foundation is one of two girl's engagement programs supported under the Indigenous Education Strategy.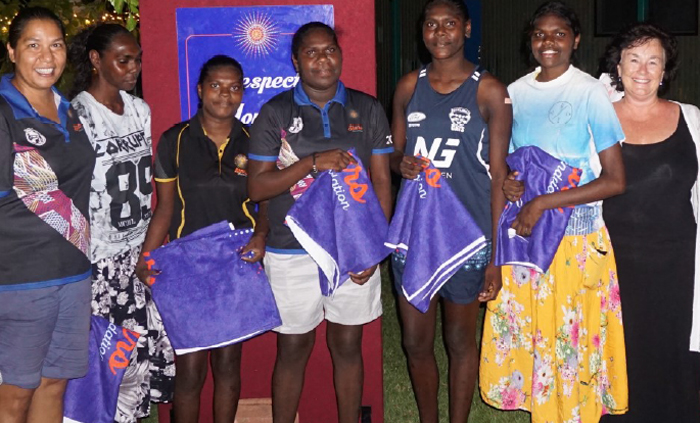 ---
Coming Up
The second stage of the Indigenous Education Strategy implementation plan (2018-2020) is underway with the program officially starting on 1 January 2018.
Stage Two includes 18 projects including 15 continuing projects and three new projects with a strong focus on enhancing community engagement.
New projects commencing in 2018 include:
The local engagement and community led schools initiative.
Establishment of a new community-led flexible learning centre in North East Arnhem Land and;
Development of a new adult literacy program to be delivered at existing Families as First Teachers sites.
Other priority projects include implementation of the Indigenous Languages and Cultures Curriculum and the long awaited Social Emotional Learning Curriculum, which are expected to help students build resilience and positive behaviours inside and outside the classroom.
Families as First Teachers (FaFT), Employment Pathways and the Transition Support Unit will also remain a key priority as they move into core business and build participating and engagement rates.
All 18 key actions under the second stage of the strategy will be available soon.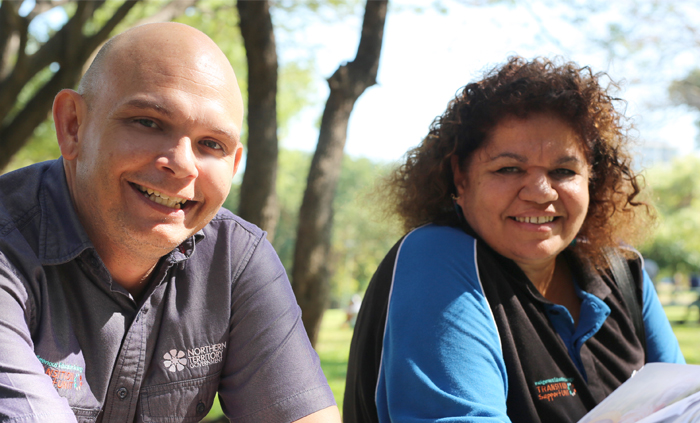 ---