Tony's Message
I am pleased to report that negotiations to secure Federal Government funding are nearing completion and that planning for Stage Two of the 10 year Indigenous Education Strategy is now well underway.
Planning will be driven by the results of external performance evaluations and the feedback many of you provided throughout the consultation process.
This feedback will enable the continuous improvement of programs being delivered in Stage Two - so I thank everyone who took the time to make a contribution.
Recently, we have been working with schools in relation to their trainers and we met with teaching principals in Alice Springs to identify ways of making our programs even more effective in those schools.
It was particularly pleasing to see Employment Pathways tracking so far ahead of schedule and to hear everyone's suggestions to drive its continued success.
As the end of the year rapidly approaches, we expect to see a number of substantial projects reaching major milestones.
The Social and Emotional Learning Curriculum is now in the final stages of proofing and an online edition will be made available to schools in early 2018.
The Indigenous Language and Culture Curriculum is also nearing completion.
The new curriculum comprises four different language pathways that reflect the diversity of students in the NT. From first language pathways for students using Aboriginal language in everyday communication, to second language and language revival pathways where students are learning and further developing proficiency, through to language and cultural awareness pathways to help students enhance their general understanding and appreciation of an Aboriginal language and associated culture.
Finally, I take great pleasure in sharing with you some of the stories and experiences we have seen unfold in this latest edition of the newsletter.
If you would like further information about anything in this newsletter please contact ierinews.doe@nt.gov.au
Tony Considine, General Manager Indigenous Education Review Implementation
---
Navigating New Pathways To Employment
Maritime Academy students from across East Arnhem Land spent four days learning firefighting, boat safety, life raft and water survival as part of a nationally-recognised ship safety course that offers students new pathways to employment.
Students from Shepherdson College in Galiwin'ku, Nhulunbuy High School, Yurrwi School and Yirrkala School came together to complete the Elements of Shipboard Safety Course to equip them with the skills needed to work on a commercial vessel.
Held at Nhulunbuy High School's Trade Training Centre, the students learned how to set off flares, use fire extinguishers, tread water, inflate life rafts and safely tow a boat. The course also involved theory on occupational health and safety and written assessments.
Year 10 Nhulunbuy High School student Jesse Maymuru said the course had taught him important safety skills in a fun and practical way.
"I didn't know about the different flares to use for day and night and it was interesting to learn about the different fire extinguishers and which extinguisher to use for which type of fire,'' he said.
"We also went down to the pool and learnt how to open a life raft and then we had to swim in the water for 10 minutes without a life jacket to show our survival skills – it was intense and tiring.''
The training provides students with the skills needed to undertake further training and education or get jobs in the maritime industry including commercial fishing, transport and logistics, tourism and conservation and land management with the local sea rangers.
Shepherdson College Maritime Academy teacher David Freier said his students extended their learning journey, sailing home from via the Wessel Islands.
"At Shepherdson College, the Maritime Academy has been operating for a year now and it's been exceptional. The students have grown in confidence and are experiencing things they wouldn't have otherwise done.''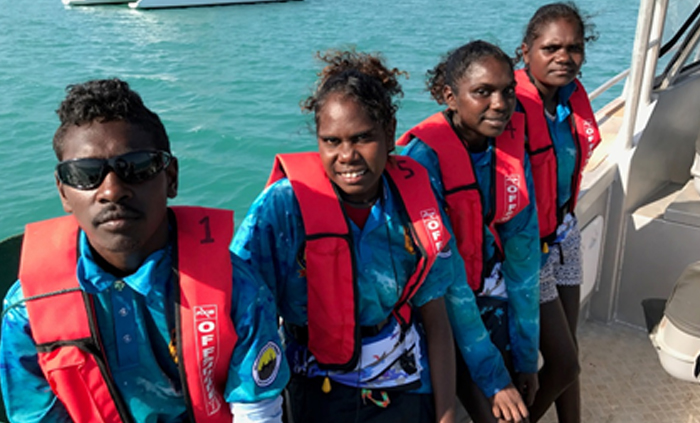 ---
Consistency The Key In Arlparra
Consistency is the key to improving English literacy amongst the mainly Alyawarra and Anmatyerre speaking students attending homeland schools surrounding Arlparra.
The schools have been using the Read Write Inc. Phonics literacy programme, which teaches students to read and write by sounding out new sounds and words.
Arlparra School principal Stephen Nimmo said the school had been using the program for about 18 months and was starting to see positive results.
"We piloted the program at the end of last year and we've been running it all the way through this year. We like it. It's consistent and we can see the progress because it's measurable," he said.
For many students in remote communities, attending the same school is not always possible, and this can sometimes result in a disconnected learning experience.
"Consistency is really the key for us. The same thing is taught in each of the five homeland schools so the kids can pick up where they left off and new teachers can pick it up too", Mr Nimmo said.
"When we're assessing, or when kids move between different schools, we know there will still be consistency and we know any change is not just due to the different ways it is being taught".
Mr Nimmo has been working in remote Territory schools for more than 10 years and believes involving parents and the wider community has played a crucial role.
"It takes time for people to trust that something will stay; that it won't disappear,'' he said.
The Read Write Inc. Phonics programme has been adapted from the UK for use in remote Territory schools where English is often a second, third or fourth language.
A resource kit was recently launched under the Indigenous Education Strategy's Literacy and Numeracy Essentials (LANE) project and will be rolled out in 2018.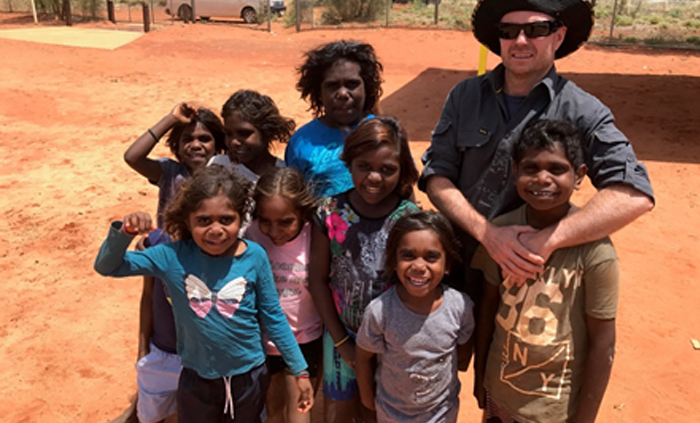 ---
Transition Camp Builds On Strength
About 15 young Aboriginal students from the Croker and Tiwi Islands recently attended a readiness and resilience-style camp to help prepare them for boarding school.
The camp equipped students with many of the skills needed to make a successful transition from their remote community school into a variety of local and interstate boarding schools.
The week long camp themed 'Strength through Challenge' was run by the Transition Support Unit for the first time under the Indigenous Education Strategy.
Transition Support Officer, Shannon Killer said students' wellbeing and engagement in learning was critical to ensuring a positive transition to boarding school.
"Establishing positive relationships, building strong home-school connections, nurturing cultural recognition and building the resilience and strength of a student to navigate their educational journey is really important," she said.
Students attending the camp undertook a variety of confidence building activities such as kayaking, mountain bike riding and canoeing.
Students, including Winston from Croker Island, also participated in group-based workshops designed to highlight their strengths and develop strategies for dealing with common challenges such as homesickness.
"It was lots of fun. We went swimming, canoeing, rock climbing. We learnt to communicate," he said.
"We also learned how to be respectful to one another and to never give up."
Jeanette, a student from the Tiwi Islands, said she enjoyed the flying fox and support activities best.
"We looked at who is supporting you; the teacher, the principal, counsellor and friends," she said.
For some students attending the camp it was only the second or third time they had left their community but they used the opportunity to make important connections and friendships with each other.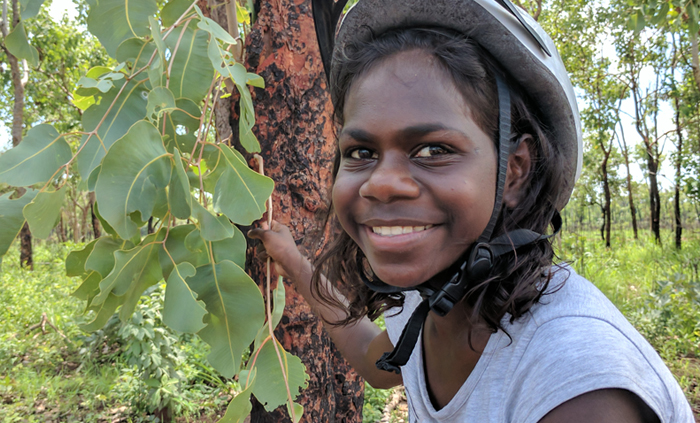 ---
New Skin Group Uniforms At Lajamanu
Lajamanu School has released new student uniforms in the four Walpiri skin group colours with the designs featuring dreaming stories and animal totems.
The design and development of the new uniforms has been a whole-of-community project.
Lajamanu School Principal Juliette Coco said the initial idea for the new uniforms had come from local Aboriginal staff at the school, who then worked with community elders on the design to make sure they were culturally appropriate.
"They worked with community elders to find out what pictures and symbols were needed. The designs are part of the dreaming stories that belong to each of the groups and all have the animal totem for that group on them,'' she said.
"The uniforms are in the skin group colours, which are also our house colours. The students love wearing anything in their skin group colours and learn from a very early age about their skin group and the kinship system."
The yellow design features the eagle, the green uniform the goanna, the blue uniform has an emu and the red design has a kangaroo.
Ms Coco said once elders had approved the design concept and symbols, local artist Gerald Watson, painted the t-shirt designs on canvas before they were sent to a designer, who digitised them into files ready for printing.
"It's been a real team effort and they look fantastic. The kids love them and they feel really proud,'' she said.
Lajamanu School student Shontelle, aged 12 said: "Our shirts are in our skin group's colours which is really good. I'm Napaljarri which is yellow and we have our dreaming story on our shirts and mine is an eagle."
While Kamus, who is 14 said: "We recently got our new school shirts and I really like them. I wear green which represents my skin group and my name is Japanangka. On the shirt I have my skin group's dreaming story of the goanna. We look very good and we are proud of wearing them."
The uniforms were released to coincide with school photos and a middle year's school excursion to Cairns.
"Everyone in the community wants one, but you have to be a teacher or student to get one,'' Ms Coco said.
"The students have even come up with some great excuses of why they have lost their shirts, so they can get an extra one.''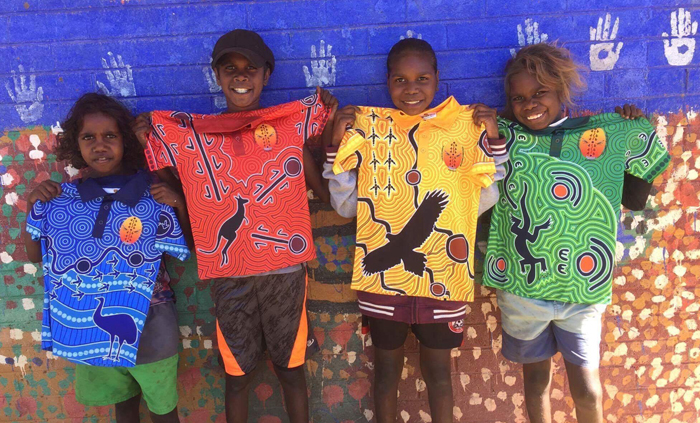 ---
Learning On Country At Bawaka
For students attending Dawurr boarding at Nhulunbuy High School, the 18 hours spent outside the classroom are just as critical to their success as the hours spent inside the classroom.
As part of Dawurr's cultural program, a group of female students aged 13 to 17 went on a women's trip to Bawaka, a significant Yolŋu place, where they spent three days and two nights getting back to country and reflecting on the importance of learning.
Bawaka Traditional Owner Rrawun Maymuru led the experience which focused on the student's personal learning journey and included lessons about kinship, respect and cultural connection.
Rrawun grew up at Bawaka and received his education via school of the air. He now operates the family business - Lirrwi Tourism, a successful Aboriginal cultural tourism enterprise.
"We are learning every day; what we see, what we touch, what we hear – it's all learning,'' he said.
"Learning about nature itself, and how nature works is part of our education."
Hunting was central to the students' learning as they waded through mangroves collecting mud mussels, worked the tides to catch fish for dinner and clambered on rocks to dig maepole (oysters) out of their shells.
"We have been camping and hunting and fishing. We also did Bungul, dancing next to the fire. We put on our skirts and did the dances for the plane, the emu and fish,'' student Noelle Yunupingu said.
Rrawun shared with the students his story about setting up his tourism business and the learning and hard work it took to get him where he is today.
"Every time you're in class listen, with the pen and paper. That's the job to learn. If you do that every day Monday to Friday, one day you'll be somebody,'' he said.
"Dream big because you might have your own business or you could be in Parliament House talking for us. You are going to grow up and be leaders, role models for your homelands or your community school or Australia.''
Each of the students has their own dreams for the future and for Debbie Guyula, that dream is to become a female ranger, living in her community of Donydji and working to look after her country.
Student Grace Durrurrnga loves to play basketball and wants to pursue a career as a sport and recreation officer working for the shire in Ramingining.
Dawurr boarding school is home to about 27 Aboriginal students from communities across East Arnhem Land. It is the first boarding school in the Northern Territory that provides boarding for students close to home so they can remain on their country while attending secondary school.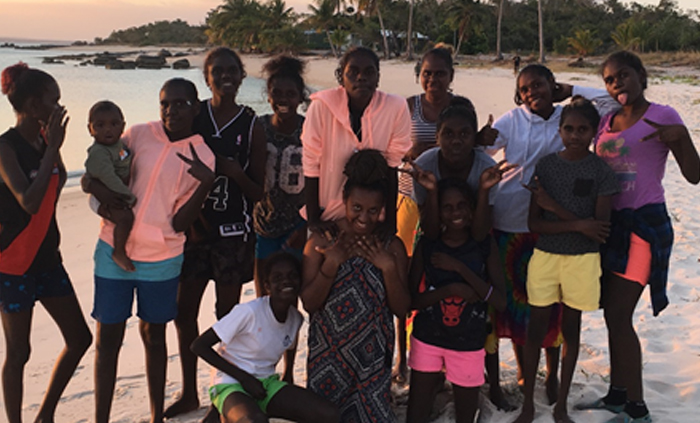 ---
Families as first teachers recognised
he Families as First Teachers (FaFT) program won a Chief Minister's award for improving Aboriginal and Torres Strait Islander employment outcomes.
Families as First Teachers Director, Regina Thompson said the win was fantastic recognition of the program's support for local employment, with 57% of its staff being Aboriginal.
"FaFT values and respects Aboriginal culture and our Aboriginal employees are critical to the program's success,'' she said.
"A child's family is the single biggest predictor of their educational success later in life so the award is great recognition of the efforts that our communities and educators put into the program."
Gapuwiyak School Family Educator Alison Wunungmurra said working at FaFT provided her with the opportunity to make a change in children's lives.
"It was clear for me that I needed to do something and be somebody to help these kids and these families," she said.
"I want all the kids to have a strong education; to have the ability to stand up and thrive in education. That's what I want to see in my lifetime.
"It gives you opportunity to show how amazing early childhood education is. It's really exciting and the excitement doesn't stop."
The Families as First Teachers program actively supports local Aboriginal employment opportunities. Of its 88 staff, 50 are Aboriginal women employed as Family Liaison Officers and Family Educators.
---
Sky Is The Limit For Stars
The sky is the limit for about 50 girls aged 12-18 years at Nhulunbuy High School who have been involved with the Stars Foundation in the last 18 months.
Stars Foundation Nhulunbuy Program Officer Leicolhn McKeller said the program supports Aboriginal and Torres Strait Islander girls and young women to make active choices towards realising their full potential.
"Stars is about respecting each other, building each other up and resolving conflict. There is no hierarchy here. It's not like a parental relationship. We are there to guide them, instil life lessons and life skills," she said.
Stars offers the girls access to full-time mentors and runs a variety of sporting, social and community events to help them develop confidence, socialisation and life skills.
"We might focus on introducing them to spaces they would not access or might avoid. That could be the local restaurant that they've never been inside because it's really intimidating," Leicolhn said.
"Or we might go to the most scenic spot. Do some fishing. Gather oysters. Cook our own food.
"Sometimes it's the most simple things but they can mean so much – it boosts morale and the girls learn new things."
Leicolhn said the program has made positive impacts on the students and their personal development.
"The girls are more confident within the school environment, more confident in themselves, more expressive with their peers and teachers,'' she said.
"You see that trust grow. That's what you work for."
The Stars program operates in eight schools across the Northern Territory, including Sanderson, Dripstone and Nightcliff middle schools (Darwin), Casuarina Senior College (Darwin), Katherine, Nhulunbuy and Tennant Creek high schools and Yirrkala School.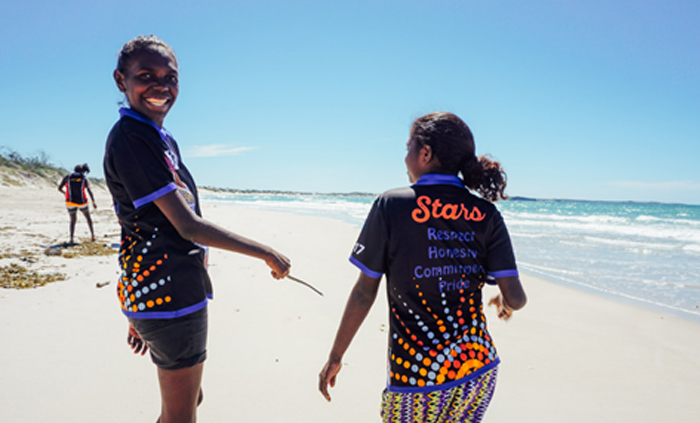 ---