Tony's message
As we get into Semester 2, 2017, it is great to see the positive impacts the Indigenous Education Strategy projects are having on our students, educators and school communities.
Stage 1 implementation of the strategy will be completed at the end of 2017. Consultations began in March this year in preparation for Stage 2 of the strategy and to inform priority actions for implementation during 2018-2020.
This issue of the Indigenous Education Strategy highlights some of the great things that are being achieved.
We are seeing positive outcomes through the Employment Pathways program with four schools teaching the new Recreational Boating course as a precursor to students undertaking VET qualifications in a Certificate II in Marine Operations from 2018.
In another example, more than 100 students from the Pastoral Futures program recently presented their cattle as part of the NT Show Circuit, with great success.
A trial of the Social and Emotional Learning Curriculum is successfully being implemented at Jilkminggan School where it is assisting students to develop quality relationships, solve problems and improve behaviour.
As more than 40 per cent of students across the Northern Territory are Indigenous, language and culture is critical to education. As a result we are developing a new curriculum that strengthens Indigenous languages and culture, builds on our current programs and is available to all students.
We were also able to showcase the Indigenous Education Strategy projects as part of our Education stall at Garma 2017 in North East Arnhem Land. As always it was another great festival that brought together community, students, educators, Indigenous leaders, politicians, academics and business to discuss key issues including education. Local students participated in the Education Fair where they were taught the Yolngu cultural curriculum, alongside other NT and interstate students.
I want to thank you all for the effort you have made to drive and implement the key projects of the Indigenous Education Strategy. I look forward to continuing to work together to improve the learning opportunities, outcomes and futures of Territory students.
Tony Considine
---
Garma 2017
Indigenous education was a key component of the 2017 Garma Festival recently held in North East Arnhem Land.
The festival, held from 4-7 August 2017, brought together about 2500 people to discuss key Indigenous issues with a focus on constitutional recognition and 'makarrata' – the Yolngu word for solving our differences.
Students from Nhulunbuy and Yirrkala schools attended the Education Fair alongside a number of other students from across the NT and interstate.
Organised by the Yothu Yindi Foundation, the fair focused on teaching a cultural curriculum with students learning about Yolngu language, culture and seasons as well as traditional resolution processes.
The Education Forum brought together a number of speakers to discuss the challenges, opportunities, improvements and achievements taking place in Indigenous education.
Nhulunbuy Boarding, house parent Cory Atkinson, who is also a Yorta Yorta man from Victoria, spoke as part of the young Indigenous panel about the importance of culture and education.
"For our kids we need culture to be at the forefront of their education for them to succeed and get the best out of their education,'' he said.
"For kids going away to boarding, this boarding facility here gives the kids an opportunity to still learn on country and still be around family to get that good education.''
Education Minister Eva Lawler and Department of Education Chief Executive Vicki Baylis both spoke at the forum about their vision for the NT to be the most improving education system in Australia.
"It's about working in partnership and inviting participation from our families and community groups,'' Ms Baylis said.
"We want everyone to be engaged - our teachers, students and their families. We all have a role to play in providing our children with rich learning experiences and opportunities.
"There are many examples of when we are innovative and creative and get it right, what a difference we can make.''
The Indigenous Education Strategy was well-represented with a stall at Garma to highlight and promote some of the key projects and actions.
Educators from the Arnhem Region's Families as First Teacher (FaFT) programs also set-up a community learning hub for families attending Garma to have an interactive learning experience.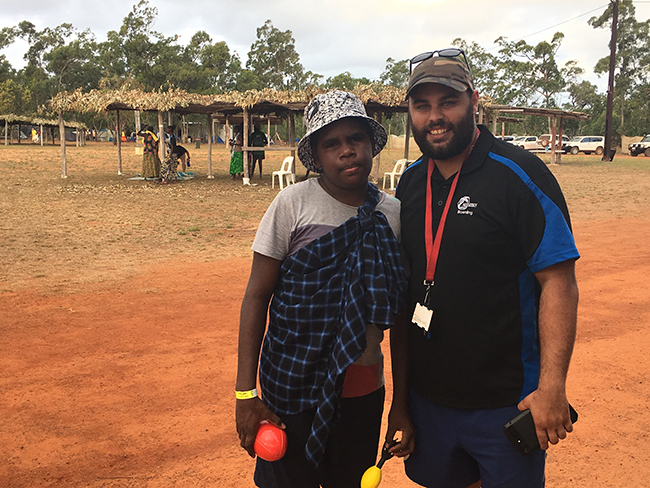 ---
Building a Bridge into Preschool
The communities of Maningrida and Galiwin'ku have participated in a three-year study to improve educational outcomes for young Aboriginal children,
The study, Building a Bridge into Preschool in Remote Northern Territory Communities, looked at the Families as First Teacher program which uses the Abecedarian Approach of family-led learning through conversational reading and learning games in first language.
The research aims to bring together cultural knowledge and evidence-based early learning to improve educational outcomes in young Aboriginal children. It is being led by the Melbourne Graduate School of Education at the University of Melbourne in collaboration with the Department of Education's Early Childhood Education and Care.
Maningrida and Galiwin'ku have two of the Territory's largest remote Families as First Teachers (FaFT) programs and they each held ceremonies in May to celebrate their participation in the study.
More than 120 community members came together at Maningrida for the celebrations, representing more than eight language groups.
At Galiwin'ku, more than 200 community members participated in the ceremony.
Family Liaison Officer Dorothy Gapany said FaFT was strongly supported by her community.
"I engage with kids aged 0-3 and work with mums and encourage mums that they are the first teachers for their own children,'' she said.
"FaFT is about teaching everyone. Some people come feeling vulnerable but we teach resilience and everyone works together and it's empowering. You are family at FaFT."
Ms Gapany said FaFT employed seven local Indigenous people and the strength of the program was in its use of language and culture to teach mums and babies.
"It's learning in two ways. Yolngu and Balanda language are part of the program and this is what makes it effective learning.
"We encourage mums that if you don't know how to read and write just go along with the pictures, and mums have that courage and confidence to be able to work with their children.
"It's a very important role in FaFT, encouraging kids from their learning journey from 0-3 and it's been good for me as an Aboriginal person working with mums and kids in FaFT."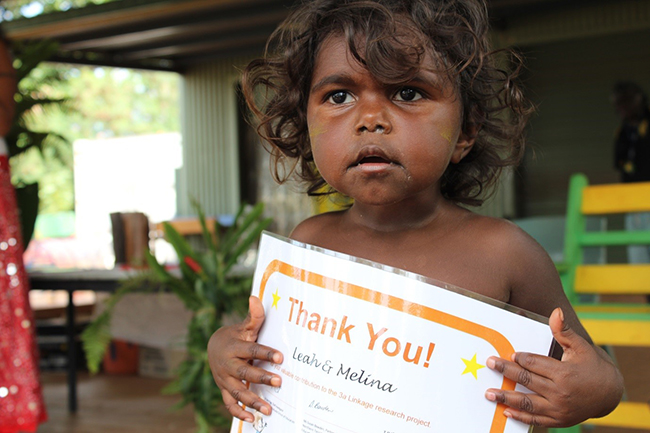 ---
Keeping Indigenous languages & cultures strong
A new curriculum to strengthen Indigenous languages and cultures in all Northern Territory Schools will be ready for implementation in 2018.
The Keeping Indigenous Languages and Cultures Strong Curriculum will provide schools with a range of flexible options and support them to work with their community to decide what approach suits the individual needs of their students. This includes bilingual, first language maintenance and revitalisation, second language and cultural awareness and language programs.
The curriculum will also build on existing programs, with more than 50 schools in the Territory currently delivering programs in 27 different languages.
Maningrida College is one of these schools. It has a first languages program that is being taught in four different languages to more than 450 students from preschool through to the senior years.
Teacher Linguist, Mason Scholes said the school's Indigenous language and culture program employed 13 local Indigenous teachers and had strong community input, decision-making and leadership.
"The community and students have a very strong voice in shaping the Indigenous languages and culture program and the school has built a network of relationships with outstations and local organisations,'' he said.
"The students love the subject because they are good at it. There are no language barriers, so the kids are very successful at it which maintains their engagement and interest.''
In the latest school survey conducted at Maningrida College, 97 per cent of students said they liked learning about language and culture at the school, while 86 per cent of families and 89 per cent of teachers thought it was important for students to learn language and culture at the school.
Mr Scholes said planning workshops were held with elders and community members so they could have input into the program while surveys were used to find out what it is the students want to learn about.
"Each language group gets to decide what they want to see the students learning about and we have a very strong excursion program because of that,'' he said.
"The students go out on country with their language group so they learn in a different environment while providing them with a good opportunity to spend time with community elders.
"Our students are multi-lingual. Which language a child learns at school is determined by their families and depending on their family connections whether they choose from their mother or father's side.''
Mr Scholes said the experience of teachers at the school had added strength to the program, with teachers developing resources in language as well as teaching students and community members.
He said while the current program focused on listening and speaking, the school was working to build its capacity to also teach reading and writing in first language.
Download a copy of the Keeping Indigenous Languages and Cultures Strong Plan here PDF (2.0 MB) or visit the Department of Education website www.education.nt.gov.au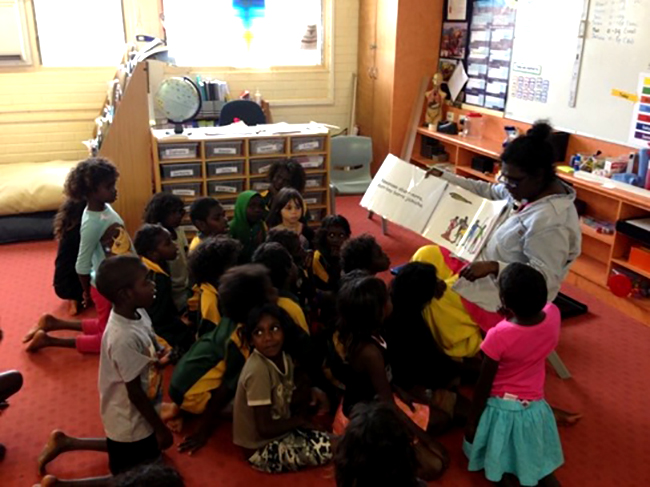 ---
Maritime at Galiwin'ku
The Maritime Academy at Shepherdson College in Galiwin'ku is preparing students for employment while equipping them with confidence, responsibility and respect.
Seven students are currently undertakingRecreational Boating, which is being offered as part of the Employment Pathways curriculum and is the precursor to undertaking VET qualifications in a Certificate II in Marine Operations.
Maritime Academy Teacher David Freier said the students from Years 9 and 10 completing the program were learning the skills needed for real-life employment in industries that were relevant to their community.
"The great thing about the Employment Pathways curriculum is that it has enabled remote schools to focus on programs that fit into the local context and are important to students and the community,'' he said.
"The Maritime Academy is teaching the skills needed to work in the commercial fishing industry, transport and logistics, tourism and conservation and land management with the local sea rangers."
Mr Freier said the Maritime Academy had provided students with the opportunity to experience and learn new things outside of their normal possibilities.
"It's such a different experience and program,'' he said.
"In one excursion, we circumnavigated the island and in the lead-up the kids had to do all the measurements, use electric and paper aids, organise who was driving what legs and how much fuel we would need. They loved it.
"As the Homelands are a long way from the island, many of the kids have never seen them before, so through the program, they are being exposed to new parts of their own country.''
The Recreational Boating Course at Shepherdson College started in April this year and is also being offered as part of the Employment Pathways curriculum at Yurrwi School and Nhulunbuy High School.
Mr Freier said the final assessment of the year would be a collaboration between the three Arnhem Land schools, with students navigating their way from Galiwin'ku to Nhulunbuy in convoy.
"It's been challenging but it's pretty exciting. One of the main things has been watching the confidence of the kids increase; they enjoy it and it's great to see them going home smiling,'' he said.
Employment Pathways provides an alternative curriculum for students in remote Aboriginal communities to gain employment and Vocational Education and Training (VET) qualifications, while also learning literacy and numeracy skills.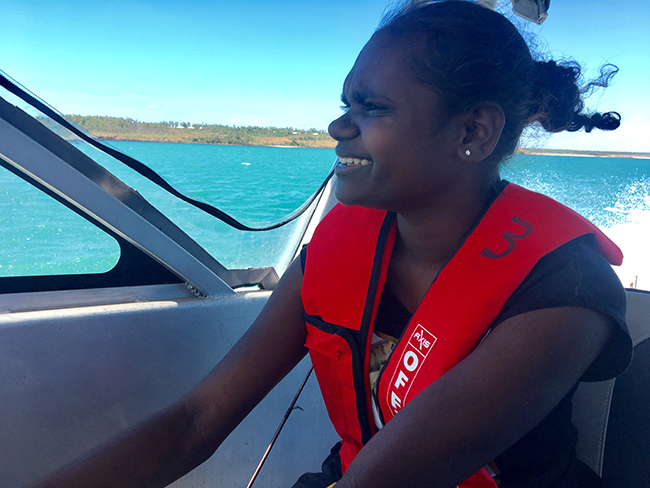 ---
Social and Emotional Learning
Northern Territory schools will have access to a Social and Emotional Learning (SEL) curriculum by the end of 2017.
Informed by school feedback following recent trials of the program,the curriculum will provide a whole-of-system approach to positive behaviour and social and emotional learning to assist students to develop as healthy, resilient young Territorians.
The curriculum will include a:
positive behaviour framework;
suite of social and emotional learning resources;
professional learning plan for school staff; and
data system to support schools with decision making about student wellbeing, engagement and behaviour.
Jilkminggan School is one of 59 Northern Territory Government schools participating in the Social and Emotional Learning trial.
Feedback from the trial has been collated and will be used to improve the curriculum before it is implemented in all Northern Territory schools in 2018.
School Principal Jess Robinson started trialling the Social and Emotional Learning Curriculum at Jilkminggan at the start of the year after having successfully implemented it at Bulla Camp School.
"It was phenomenal," she said.
"At Bulla Camp School It significantly reduced reported behaviours and made a huge difference to the school, and the feel of the school.
"It assisted with problem solving so the kids could sort out their own problems and the academic achievement at the school took off. As we didn't have to focus on behavioural issues, we could focus on teaching and learning and creating positive relationships."
Ms Robinson said as part of the curriculum an hour of school time is dedicated to social and emotional learning in all year levels from transition through to the senior students.
She said the curriculum had been tailored to Northern Territory schools and classrooms, which was particularly important when working in a remote environment.
The activities at Jilkminggan have included matching emotion cards with storytelling for transition students and talking about peer pressure and looking at the resources available around drugs and alcohol for secondary school students.
"For the middle primary kids they had to figure out how to flip a mat without stepping off it. This activity was about communicating with each other, team work and leadership," Ms Robinson said.
"Social and emotional learning takes a proactive approach instead of a reactive approach. It's been amazing for us and has already helped our school take a step into a more positive place.
"Our ultimate goal is to build resilient students."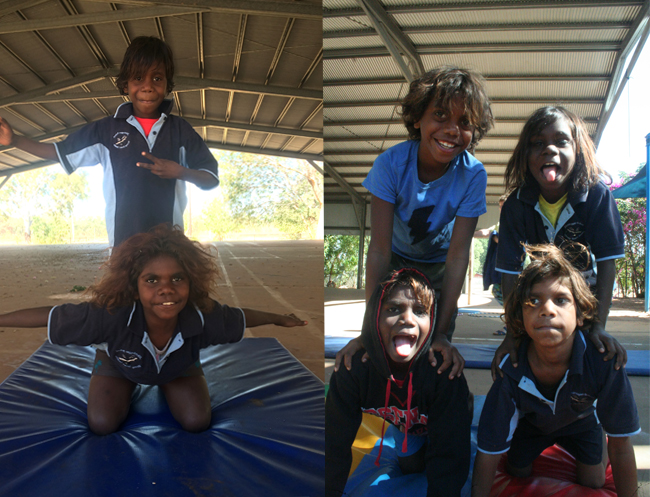 ---
Boarding as a gateway to education
The Transition Support Unit (TSU) recently presented at a national conference about its role supporting students' success, engagement and wellbeing during transition to boarding school.
The Boarding Australia 2017 National Conference was held on 5-7 July 2017, with the theme 'The Other 18 Hours' - the hours outside the classroom, which are critical to students' success.
Members from the Transition Support Unit spoke about their approach to supporting students' social and emotional health and wellbeing as they transition to boarding school.
They also presented on the findings from a report commissioned by the University of Melbourne called Supporting Students in Transition.
The report provides evidence-informed recommendations to guide schools and the education system to support the successful transition of young people across their schooling lives.
Research indicates that positive transitions require attention to wellbeing as well as to engagement in learning. This includes establishing positive staff-student relationships, building strong home-school connections, and nurturing cultural recognition and respect.
The Transition Support Unit assists about 1900 boarding students from 46 very remote communities in the Northern Territory. It has helped to increase the total number of students at boarding schools by 812 in the past year from 1147 student in 2016 to 1959 students in 2017.
Transition Support Officer Shannon Killer said it was great to see students that made the transition to boarding school thrive in their new environment.
"TSU is there to provide support and guidance to children and families that haven't formally had it before," she said.
"The kids are excited because they are exposed to different people, different opportunities and places. Boarding school opens so many doors for them.
"Boarding school is not for everyone but for those families in remote communities that want a secondary education for their child, it's a great opportunity for them and we get to support and guide them through that journey.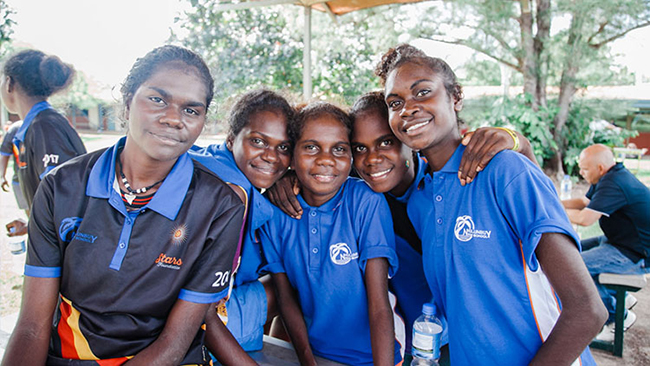 ---
Students gain skills they'll have for … "heifer"
Students from five Territory schools presented their prize-winning cattle at the Katherine and Darwin Shows as part of the Pastoral Futures Program.
More than 100 students from Centralian Senior College, Yirara College, Tennant Creek High School, Katherine High School and Taminmin College are involved in the Pastoral Futures Program, which sees students learning about the pastoral industry as part of their senior studies.
As part of the program students undertake either a Certificate I in Agrifoods, Certificate II in Rural Operations or Certificate III in Agriculture which gives students skills associated with working on a modern pastoral property.
The program creates pathways for students to enter the pastoral industry through work placements conducted on stations or properties, which includes handling horses and cattle and learning first aid.
Director of Industry, Engagement and Employment Pathways Andrew Oliver said the program, now in its fourth year, was developed to attract young people to work in the pastoral industry to replenish an ageing workforce.
"This program not only benefits the students by giving them hands-on skills, it also allows them to have a direct link to employers through our industry partners,'' he said.
"The program gives students pathways not only in the pastoral industry but also subsidiary industries, such as animal nursing or veterinary services.
"Students get a lot of value out of the program as it allows them to receive a formal qualification or credit points towards their Year 12 Northern Territory Certificate of Education and Training, all whilst getting hands-on skills.''
Centralian Senior College student Mariah Satour said the program was great for Indigenous students that were unsure of what they wanted to do in the future and wanted to learn something new.
"I enjoy the hard work, I enjoy the small things that come out of the big things and I enjoy just working with the animals. I love everything about it,'' she said.
"I'm hoping to go and work out on a station somewhere in my gap year and after I get a bit of money together I'm hoping to go to Uni to study to be an equine vet.''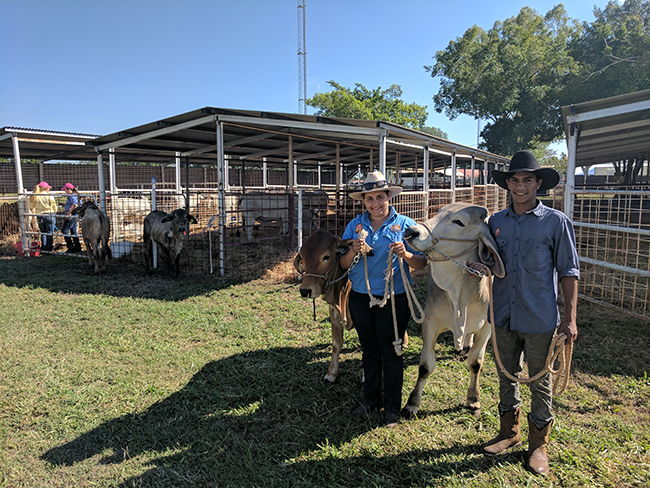 ---