Register now for Robocup
Territory schools are set to vie for engineering and programming supremacy as diminutive robots undertake prescribed tasks in the annual Robocup competition.
Robots coded and mechanically tailored to perform specific functions in the Primary and Secondary Rescue, Simple and Standard League Soccer, and Primary and Secondary OnStage Performance categories, are expected to obediently follow instructions to successfully complete their assignments.
Robocup is growing in popularity, and already 68 teams from 17 schools have registered. The number of challengers is expected to exceed the 500 students from 24 Territory schools that battled for pre-eminence in 2017.
Robocup chair, and Department of Education IT Service officer, Monica Hilse said: "As this is the third year the event has run we are expecting to see some advanced robots.
"Previously, soccer was only a demonstration event, but for the first time we are running a fully-fledged Standard League Soccer competition.
"And the Dance challenge has become the more open-ended OnStage Performance category, allowing robot performances to include theatre, drama, storytelling and scenarios.
"This fantastic development allows students to be as creative and pioneering as they wish, and to experiment with different robotic designs, be inventive in the use of sensors and robot interactions."
The clash of the robots will be held on 28 June at the Casuarina Senior College Gym from 8.30am to 2.30pm. Follow Robocup on Facebook .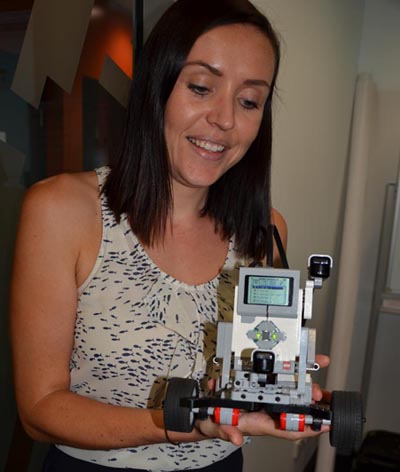 (Picture: Nakara Primary School teacher Tahlia Scheermeijer with a robot)