NTBOS Award 2018
The 2018 Northern Territory Board of Studies awards this year acknowledged the outstanding work of 66 high achieving students from primary, middle and secondary schools.
The 123 awards in 35 categories were presented to recipients from urban, regional and remote centres, and from government and non-government schools, at annual ceremonies in Alice Springs and Darwin.
The Department of Education congratulates all the awardees for demonstrating an unstinting dedication to excellence.
Alessandro Spadaccini
The Essington School student Alessandro Spadaccini received the Department of Trade, Business and Innovation – Business and Enterprise Award.
"It was quite fulfilling to receive it, and it gives me a supreme confidence boost going into this year, knowing that I have the potential to achieve," he said.
"I credit my Year 12 successes to my support networks, primarily my family, but also Essington School teachers and staff.
"My advice to other students is to start from the get-go at the beginning of the year, and take the advice and feedback given to you."
The 18-year-old believes subject selection can be important in helping students determine their objectives.
"For younger students, I'd say choose your subjects carefully," he said. "Subject selection is a good place to start, and to work out your goals.
"Physics and chemistry were my favourite subjects, they were the most interesting subjects, and they have opened my mind up to a lot of different avenues and possibilities.
"I now have more career options, and more opportunities for future development, personally and professionally."
With an ATAR of 99.05, Alessandro will this year head to James Cook University to study a Bachelor of Medicine and a Bachelor of Surgery.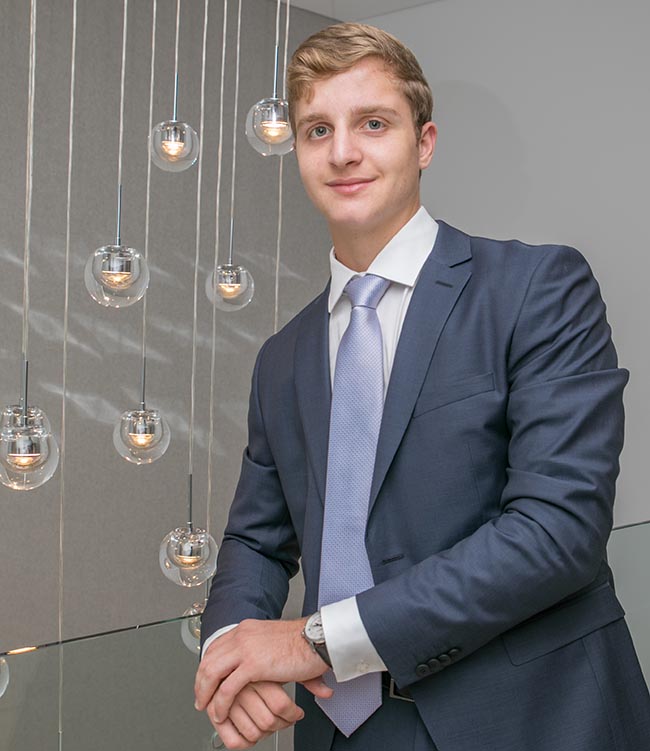 Bradley Greenfield
Centralian Senior College graduate Bradley Greenfield was awarded the 2017 GTNT Most Outstanding School-Based Apprentice Award, for his dedication in finishing his NTCET and Certificate III in Civil Construction and Plant Operation.
The NT BOS awardee completed his schooling a year early, and has only a few units of his off-the-job component of his traineeship to finish before obtaining the certificate. Bradley travels to Darwin to undertake training with Charles Darwin University.
He said the qualification will provide the wide range of skills and tickets needed to easily get a job in the sector.
"With my tickets (machinery focused) I can go out there and operate everything without having to do any training," he said.
To manage his time Bradley said he split his week between school work and his apprenticeship.
"I'd be working and completing my units for two days, and the other three days I would be at school and doing my assignments," he said.
Bradley started working on the weekend at Chambers Engineering Services before he was offered a traineeship with the company.
He jumped at the chance to learn more, and hasn't looked back.
The ambitious teen said he was looking forward to continuing his study and learning about project management.
"I want to start leaning about quoting, and being a team leader, and working out the logistics of it," he said.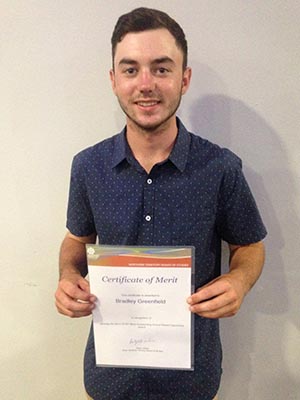 Hasoni Al-Ibrahim
Stuart Park Primary School graduate Hasoni Al-Ibrahim received the Sally Bruyn Senior Primary School Science Award for demonstrating achievements in science learning and understanding in the classroom.
The former Year 6 scholar said he was very pleased that his work had been acknowledged with a prize.
"I did my work and worked hard, and waited and I got my result," he said. "(My parents) were very happy, they were very proud, and we went out to dinner to celebrate."
Hasoni has a strong desire to learn, and enthusiastically reads and investigates in his own time.
"I have two favourite subjects – science and maths. There are a lot of things to look up and examine, and I do a lot of research on the internet, and in books," he said.
Hasoni would like a career in the medical industry, but for now he is focussing on being a Year 7 student at Darwin Middle School.
"The work is a lot more challenging at Darwin Middle School, and I'm moving around more often from class to class," he said.
"A lot of the teachers gave us tips about middle school – they said we have to study this way, and do things in a certain way."
Hasoni has also found more opportunities at his new school, and is on the lookout for competitions he can enter, such as the brain bending Tournament of Minds.
"I've only been here three weeks, and I've already found an event," he said.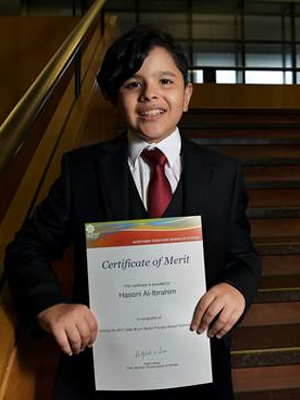 Johvan Miles
Our Lady of the Sacred Heart Catholic College graduate Johvan Miles cleaned up at the NT Board of Studies award ceremony in Alice Springs.
The Indigenous student won the Most Outstanding Stage 2 NTCET Distance Education Student of 2017 award, and the Charles Darwin University Top Aboriginal Australian Tertiary Admission Rank award. The tributes follow a year in which Johvan was also named the 2017 Top Aboriginal NTCET completer.
The Red Centre resident said the awards were a welcome surprise after a year of studying hard.
"I kind of just did the best that I could," he said. "The first quarter was stressful. I used to come home and study for three hours a night. Towards the end of the year I was more focused on finishing Year 12."
Johvan is taking a gap year to work and save money, and get back into athletics before heading to university.
"I want to study engineering, or do a Bachelor of Science, or architecture," he said.
He had some sage advice for the current cohort of Year 12 students.
"It's one of the fastest years, and you don't have much time other than to study if you want to get good marks," he said.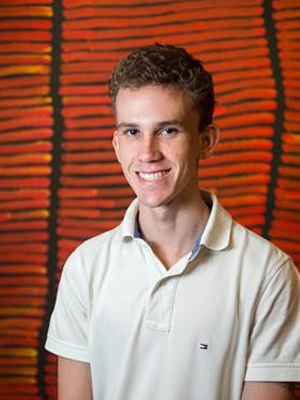 Kate Gornall
Kate Gornall, 18, has been honoured with the Year 12 Vocational Education and Training Award. Graduating O'Loughlin Catholic College with an ATAR of 90.9, Kate has landed a job with Australian Apprenticeships NT, where she will be working as a gateway marketing officer.
Her final school year consisted of three days of school, and two days of university.
"It was a lot to manage, and I worked part-time as well, but it paid off in the end," she said. "I think it was the best thing I chose to do – being able to complete school and a course at the same time was important."
Kate has struggled with dyslexia since she was eight, making her achievements even more impressive.
"My battle with dyslexia began when I was eight years old, and before I reached Year 11 it was a huge struggle to study and do assignments," she said. "I worked very hard last year, and I managed my dyslexia by creating calendars that combined my assignments and their due dates, ensuring I met deadlines."
Kate was headhunted by Australian Apprenticeships NT after attending the Australian Training awards. Her role now is to help apprentices in the Territory find jobs – exactly what she was trying to do just months ago.
"We interview apprentices and trainees, aptitude test them, and find a business best suited to the apprentice and the company," she said.
During her final year, Kate trained with the NT Office of the Commissioner for Public Employment and won the NT School Based Apprentice or Trainee of the Year Award.
"My commitment has come from my desire to succeed and see things through," she said. "As I completed my vocational courses my self-confidence and my desire to continue learning also grew."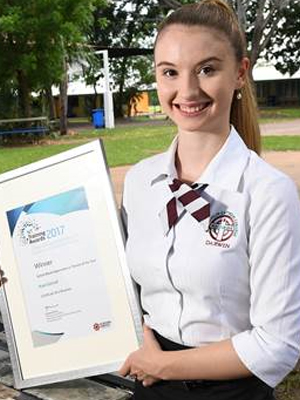 Nisangi Wijesinghe
Darwin High School graduate Nisangi Wijesinghe claimed an impressive array of NT BOS awards, including the Australian Veterinary Association (NT Division) Dennis Thomson Memorial Science Award.
Named one of the top twenty NTCET completers, the 18-year-old high achiever was lauded as the Most Outstanding Stage 2 NTCET Student of 2017, collected a certificate of merit in four subjects, and with an ATAR of 99.8, was presented with a Charles Darwin University Top Ten Australian Tertiary Admission Rank Award.
Science subjects have been paramount in an education targeting tertiary studies. "I enjoy learning science because I appreciate its discipline and learning how the world works," she said. "And it has been excellent preparation for university because science demands mental rigour, research, asking questions in class, and critical thought about what we learn."
To sustain her equilibrium during Year 12, Nisangi always sought to stay in control of herself, and importantly, sustain her health.
"I try to stay calm and not get stressed – staying in control is important," she said. "I made sure that I looked after myself, getting enough sleep and nutrition to make sure I could wake up ready for each day, and that I could be the best I could be.
"A healthy body is necessary to have a really positive and productive mindset, and it helped me approach everything with a creative mentality.
"My advice is look after yourself, put your health first, and no matter what, keep going."
Nisangi will begin studying medicine at Monash University this year.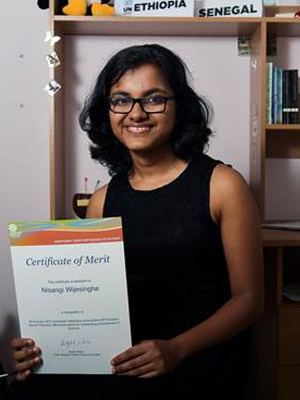 Tjina Stoll
Tjina Stoll received the Administrator's Medal for Territory Middle Years Scholar. The award acknowledged her outstanding achievement and behaviour in school, and for being an outstanding citizen and showing care towards others.
The former Sanderson Middle School student said her middle school experiences have been a good introduction to high school.
Moving into Casuarina Senior College in 2018, Tjina will embrace the freedoms and opportunities associated with secondary school.
"You get a bit more independence – you don't get checked up on as much, and it's up to you," she said.
"I'm looking forward to having more choice of subjects at school. You can choose the subjects now, and do what you want to do."
Having a balance between work and recreation was important for Tjina during her middle years' schooling, and she continues to devote time to a wide range of extracurricular activities.
"I play soccer, I do ballet and a lot of music. I sing, play piano and the clarinet – It's a good balance," she said. "I just do a lot of things, I'm busy all the time."
While she doesn't know exactly what the future holds, she's happy to take her schooling as it comes.
"I quite enjoy maths. And while it's not really related, I also enjoy performing arts," she said.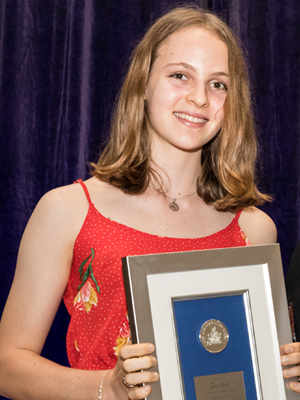 Travis Kennell
Groote Eylandt scholar and former school captain,Travis Kennell, is the recipient of the Telstra Remote Aboriginal Award.
As an Angurugu resident he became the first person from his community to complete Year 12 at Alyangula Area School, and also undertook senior schooling through the Northern Territory School of Distance Education (NTSDE).
Beginning in Year 10, he remotely connected to his teacher and classmates by video about four times a week, but this limited contact restricted the ability of his teachers to offer guidance.
"Not being able to see your teachers was tough, and they were hard to get in contact with," he said. "Having to figure things out for myself helped make me more independent."
Alyangula Area School principal Tania Kolomitsev said the school's staff helped Travis where needed, and each of his NTSDE teachers made annual visits to the island to assist his learning.
"Finishing Year 12 made me realise I can achieve something, even though it's been a rough year," he said. "I can do something if I put my mind to it, and I can be a good role model for my communities, as no one else has achieved this."
Travis believes he has developed the level of self-sufficiency needed by those who undertake tertiary studies.
In 2018 he will work with BushFit — run by the Angurugu local community — but hopes to be employed in mining when he turns 18 to earn extra money, and the chance to travel with his work.
"It wasn't a conventional schooling experience, but I got through all of my final subjects and I have many prospects ahead of me," he said.
"You need to put your head down and focus – If you work hard to reach your goals you can achieve anything."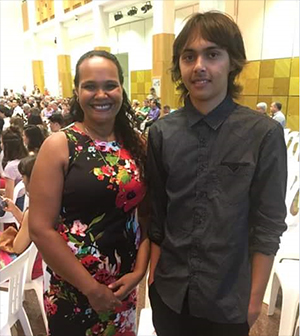 Zhuang Zhuang Sun
Larrakeyah Primary School graduate, Zhuang Zhuang Sun,has received the Administrator's Award for Territory Primary Years Scholar, fulfilling the criteria of academic achievement, outstanding behaviour, and outstanding citizenship and concern for others.
"Primary school was pretty easy for me – it was usually As and Bs on my report card," he said.
Zhuang Zhuang said the award was a surprise but he was proud to receive it.
"It gives me a lot of confidence coming into a new school," he said. "It was really shocking when I found out (about the award) – my parents were very excited."
The top performer said Larrakeyah Primary School staff had been a strong influence on his education. "My teachers, and everyone at Larrakeyah, were all excellent," he said.
Crediting science as his favourite subject, Zhuang Zhuang has cited engineering as a future career.
"I just like learning about different things," he said. "I like science, and I really like the teacher."
But his favourite part of primary school was being able to use the new Year 6 classrooms.
"We nearly missed out, they opened in Term 2 of Year 6," he said.
With two weeks under his belt at The Essington School, Zhuang Zhuang says the amount of homework has been a surprise.
"We didn't get any homework at Larrakeyah – I get a lot less free time," he said.
At Larrakeyah Primary School, the former Year 6 student achieved the highest score in the 2017 Cambridge Primary Checkpoint Exam in English.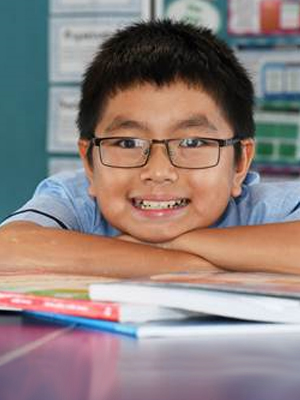 Last updated: 15 February 2018