Senior management team
Vicki Baylis
Acting Chief Executive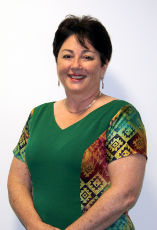 Ms Baylis started with the department in 2010 as the Executive Director Schools – Arnhem, Palmerston and Rural regions and has over thirty years' experience in the education sector across two jurisdictions. Previous appointments include Principal, District Director, Director General, Executive Director Schools and Executive Director – School Support Services.
Most recently, prior to moving into the Acting Chief Executive role, she was responsible for the territory wide delivery of curriculum, assessment, teaching, learning and inclusion from Transition to Year 12 in addition to vocational education and training, enrolment and attendance, wellbeing and mental health as well as engagement and industry partnerships. Her areas of expertise include educational leadership, curriculum, teaching, learning and inclusion working across remote and urban settings to support a diverse range of communities. Ms Baylis has extensive experience in working with Indigenous students, families and school communities.
Ms Baylis has implemented and delivered a range of strategic initiatives through developing strong internal and external partnerships, by negotiating key deliverables with various national partnerships.
She regularly participates in national forums and is a representative on cross-agency and cross-jurisdictional committees including the Child Death Review and Prevention Committee, Northern Territory Board of Studies, the national Joint Working Group for the Nationally Consistent Collection of Data for Students with Disability and the Aboriginal and Torres Strait Islander Education – National Collaborative Action Working Group.
Marion Guppy
Acting Deputy Chief Executive School Education
Marion has worked in education for over 25 years. She first began her career in Victoria before moving to the Northern Territory where she has worked in both regional and remote schools across the Territory including Karguru School, Alpurrurulam School, Tennant Creek High School and Katherine High School.
Marion was the founding principal of Casuarina Street Primary School in Katherine before moving to Darwin where she became the principal of Dripstone High School, now known as Dripstone Middle School, and then Darwin High School.
Marion worked as the department's Regional Director Darwin, Executive Director Arafura and then the Executive Director Secondary Education.
In mid 2015, she assumed her current role of Acting Deputy Chief Executive for School Education.
Marion has degrees and post graduate qualifications from Melbourne's La Trobe University and Charles Darwin University.
She is a member of the South Australian Certificate of Education Board, Youth Justice Advisory Committee and other prominent community groups and government bodies.
Marion enjoys helping schools to improve their services and working on system-wide initiatives. She strongly believes in enabling schools and their students to achieve excellence.
Dr Kevin Gillan
Executive Director Education Partnerships
Kevin was a former District Director and principal in various regions throughout WA before joining the Department in 2006. He has also taught in New Zealand and the United Kingdom.
In the Territory he has previously been General Manager of Schools (Palmerston and Rural), Executive Director Schools North and Head of School Education and Training Operations.
He has also worked in the Department of Chief Minister and as a Professor at Charles Darwin University in recent times.
Kevin has a long-term research interest in Indigenous education, in which he completed his PhD.
He believes that successful schools are those that have a real focus on optimising relationships at all levels throughout the school community and have an unrelenting focus on quality pedagogy.
Arthur Townsend
Executive Director Schools South
Arthur has worked as the Executive Director Schools South since March 2015.
Prior to this, Arthur held positions at the executive level for the Victorian, Australian and New South Wales Governments that included Executive Director Schools and Regional Director Schools (Victorian Government), State Manager NSW/ACT and State Manager NT (Australian Government).
While with the NSW Government, Arthur held the positions of Director of Distance and Rural Education, Regional Director Teaching and Learning and District Superintendent Schools.
The major focus of his work has been on improving rural and Indigenous education outcomes.
A former principal and teacher of economics and commerce, Arthur has a Master of Education (Honours), a Bachelor of Economics and is completing his PhD studies focusing on education in rural and remote areas.
He is a Fellow of the Australian College for Educational Leaders and a member of the ANZSOG Alumni.
Anthony Roberts
Executive Director Schools North
Anthony is currently the Acting Executive Director Schools North. Previous roles with the Department of Education have included General Manager Human Resources, Regional Director - Darwin Region and Acting Executive Director - Darwin / Katherine Directorate. He is currently the President of the Australian Council for Educational Leaders NT and has been a member of the National Australian Council for Educational Leaders Board for the past 5 years. Prior to this, Anthony worked as a Senior Principal in a number of Primary and Secondary Schools in Queensland across both urban and remote settings. He has a passion for education and has a professional interest in Indigenous education and School Improvement.
Jasmin Aldenhoven
Executive Director Corporate Services
Jasmin joined the Department of Education in September 2014 as Chief Financial Officer and Executive Director Corporate Services with oversight of Financial Services, Planning and Infrastructure and Information Technology.
Jasmin has worked for the Northern Territory public sector in executive roles for eight years, commencing in August 2007 as the Chief Financial Officer for the former Department of Planning and Infrastructure and its Government Business Divisions (now the Department of Lands Planning and the Environment and the Department of Transport).
In September 2012 she commenced as Executive Director of Business Services and led a division that provided shared corporate services to both agencies and related statutory corporations such as the Darwin Bus Service and the Land Development Corporation.
Jasmin's focus was to develop and strengthen agency-wide people leadership, performance, financial and governance arrangements through strategic and operational corporate advice, building capability and streamlining organisational systems of the department, with a strong client service approach.
Before joining the Northern Territory Government, Jasmin worked in the private sector for a large international chartered accounting firm and held a senior management role for 11 years delivering professional accounting and advisory services to clients in a variety of industries including government, construction, finance, insurance, hospitality and gaming.
She worked in the United Kingdom for two years and held a group accountant role for a listed company in the music and entertainment industry.
Jasmin is a Chartered Accountant, Graduate of the Australian Institute of Company Directors, Certified Internal Auditor and holds a Bachelor of Business majoring in Accounting.
Tony Considine
General Manager Indigenous Education Review Implementation
Tony has worked in education for 29 years. He began his career in Queensland working in a range of schools including 10 years working in remote schools in Cape York and the Torres Strait.
He has worked in the Northern Territory for the last 9 years as Principal of Taminmin College and in senior office-based positions including Director of Vocational Education and Training in Schools, General Manager Pathways, and General Manager Participation Pathways and Engagement.
He strongly believes that schools must be client focused and develop pathways that enable students to make the transition to further education training and quality employment.
Tony has received national recognition by leading Thursday Island State High School to win The Australian Newspapers Australia's Best School competition.
He was named in Bulletin Magazine as one of the top 10 educators in the 2005 Australia's Smart 100 list.
Tony has lectured to principals and education leaders in Queensland, Western Australia and the Northern Territory on improving school performance.
He has represented the Northern Territory on a number of national education groups.
Tony attained High Achiever Principal Status in Queensland. He holds a Bachelor of Education (Secondary Education) and is a graduate of the Strategic Leaders program.
Anna King
General Manager Strategic Services
Since the late 1970s Anna has lived in the Northern Territory, raising a family and working in remote towns across the Top End before moving to Darwin at the end of 1999.
Since leaving the secondary school classroom, Anna has worked in central office roles across early childhood policy and regulations, disability, wellbeing and strategic services.
Anna authored the original Accountability Performance Improvement Framework, developed the Northern Territory-wide Early Childhood Workforce Plan and has worked collaboratively to produce a range of other reviews and strategies for the department over the years.
Anna's main work interests lie in the development of strategic policy, systems and frameworks that enable organisations to deliver high quality services and achieve improvement goals.
Anna has a Graduate Diploma Education (Secondary), a Graduate Diploma Organisational Leadership and Change Management, and a Masters in Business Administration.
Shane Dexter
Director of the Office of the Chief Executive
Shane commenced with the Department of Education in 2008 as a policy officer.
Since that time he has worked in various areas throughout the department including Human Resources, Legal Services, Early Childhood Policy and Regulation and School Operations.
He commenced in his current position as Director of the Office of the Chief Executive in July 2013.
Prior to joining the department, Shane was a practicing solicitor with a Darwin law firm.
He holds undergraduate degrees in business and law, and postgraduate qualifications in legal practice and public sector management.
Last updated: 20 October 2016